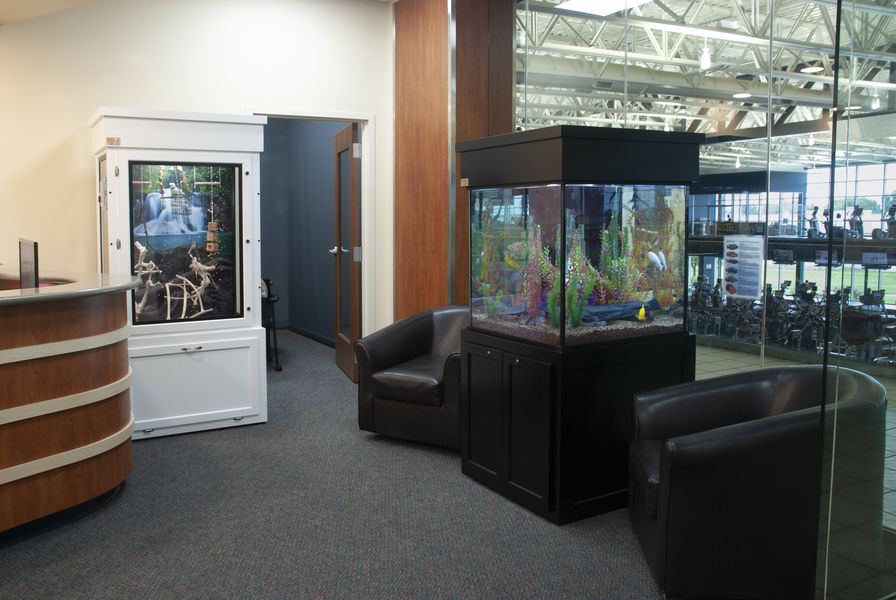 Offices and Lobbies
Serenity Aquariums and Aviaries are excellent additions to office lobbies and workspaces, as benefits go beyond their aesthetic appeal. Their natural sights and sounds can make a lobby feel more inviting while increasing employee productivity and job satisfaction.
Plus, we offer comprehensive service packages for all our commercial aquariums and aviaries. This way, your team will never get tied up with routine cleaning or maintenance.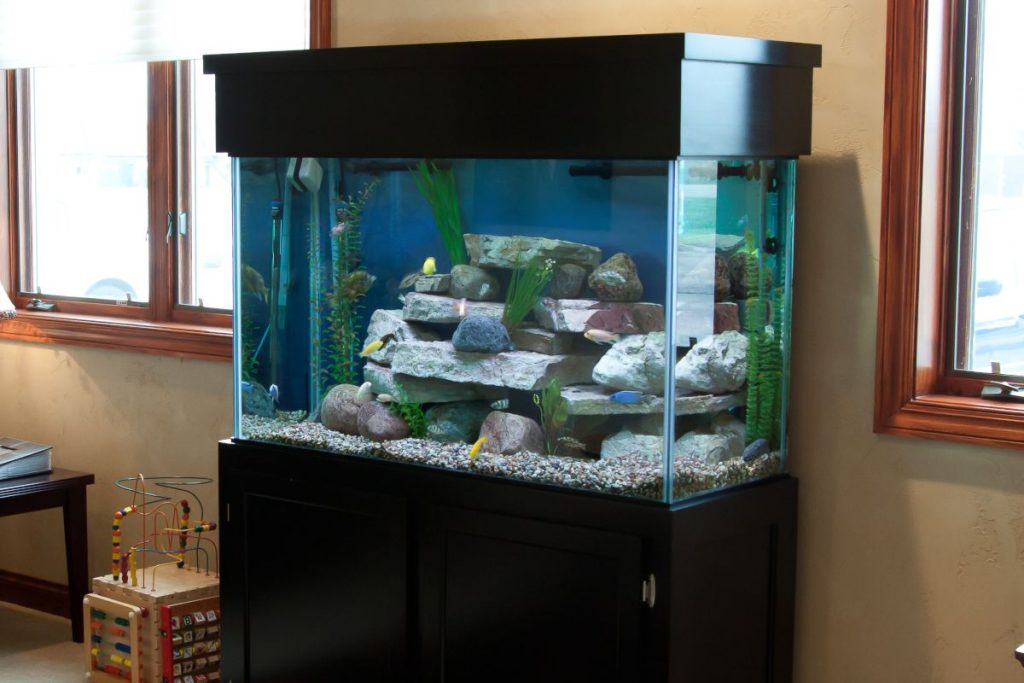 Banks
What can a Serenity Aquarium or Aviary do for your bank? Nature-focused decor can differentiate any bank's interior. Your members will enjoy the sights and sounds of fish and birds, while your staff receives calming stimuli throughout their shift.
Plus, we offer cleaning services for all our aquariums and aviaries in banks. Your team will never have to worry about the extensive maintenance needed to keep these units clean and healthy.
Aquariums and Aviaries in Commercial & Professional Services
Did you know that adding natural elements to your office can make guests happier and improve employee productivity?
Humans are naturally drawn to nature, and studies show that we feel better when in its presence. With the digital world ever expanding, it's more important now than ever that small and medium size businesses incorporate natural features into their facilities.
That's why we get so many calls requesting Serenity Aquariums and Aviaries.
Not only do people choose Serenity for the quality and character of our units, but it's our commitment to service that comes with each commercial aquarium and aviary.
Better yet, our clients have elevated their employee and guest experience, without the need for training or time investment from their team.
Make your Lobby Memorable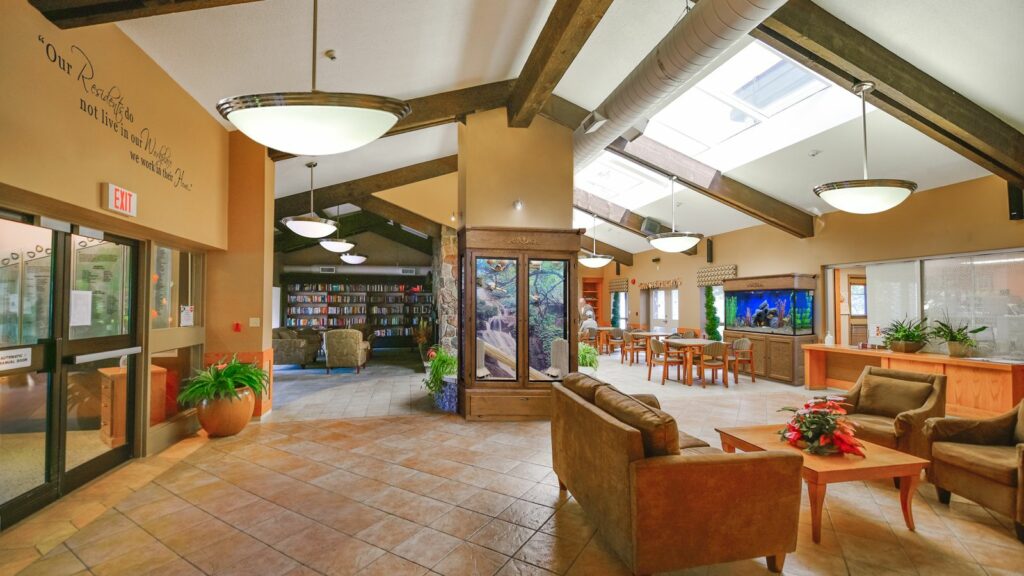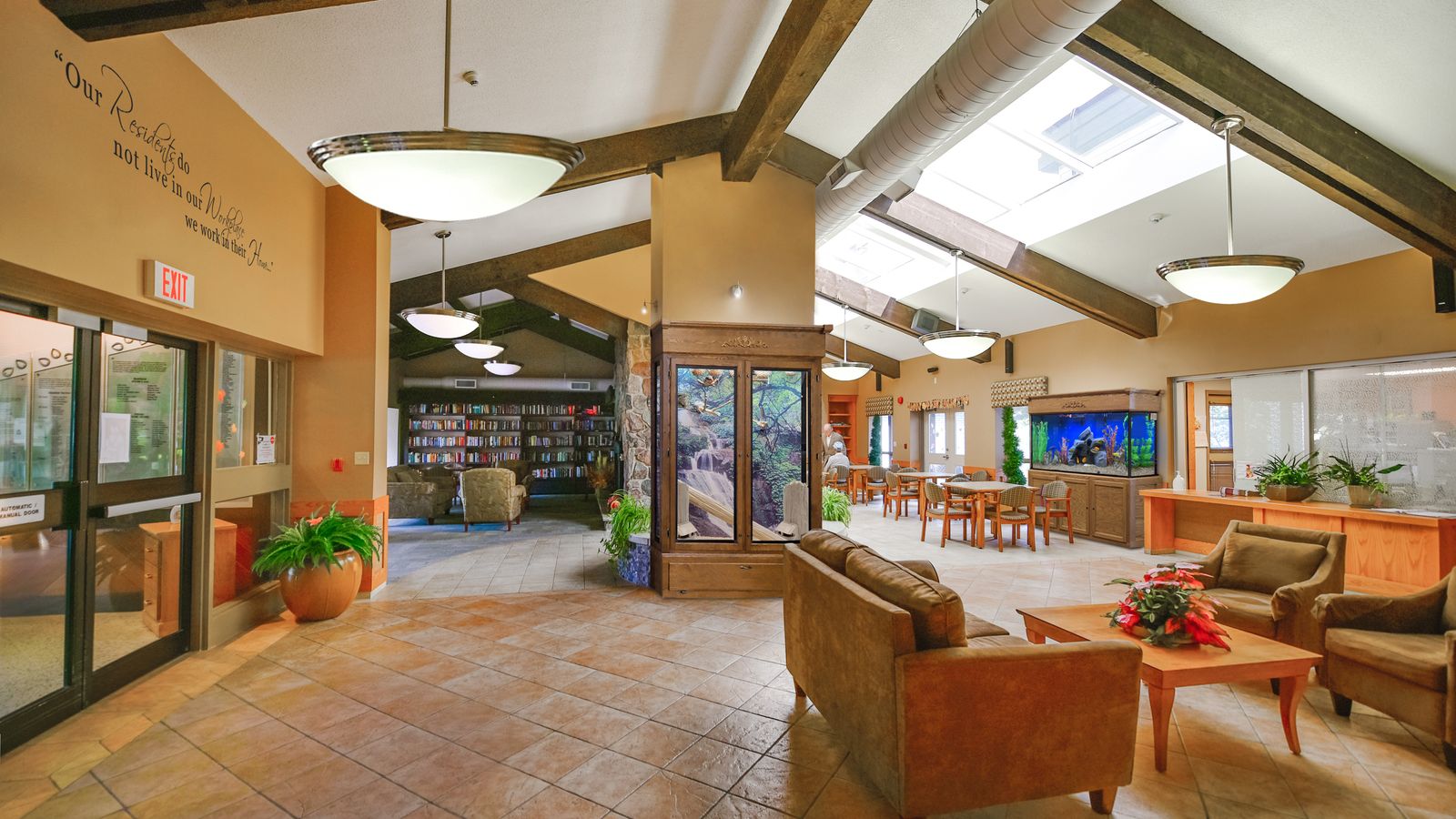 Visitors aren't expecting much from your lobby, but why not give them more than they asked for?
Your lobby is the face of your business, and it should always impress and intrigue your guests. Have you designed your lobby for memorable first impressions?
Well, a feature like a commercial fish tank or a bird enclosure is a memorable decorative piece. Moreover, it's an impressive display that improves your visitors' perception of your brand.
What's more valuable than that?
Foster a Less Stressful Workplace
According to the American Psychological Association, 61% of Americans say their job is a major cause of stress for them. Therefore, companies need to increase satisfaction in the workplace.
How have you created a welcoming environment for your staff?
J.J. Keller & Associates, for example, felt that a Serenity aquarium would help create this atmosphere. A primary focus for their office renovation was to add collaborative spaces around their campus. They decided the best place for their commercial aquarium was in one of these areas.
Now, this is the most popular location for collaborating on campus.
So, the value of a fish tank or bird aviary is that it creates an area that people enjoy working in. And when your employees feel happier in their workspace, they're more productive.
Built Just for You
Our sister companies, Custom Aquariums and Custom Cages, build all of our aquariums and aviaries, respectively.
They are both industry leaders in their respective niches, handcrafting each unit in our state-of-the-art factory. Each unit is built from scratch and catered to your interior.
With your input, we'll design the stand and canopy to the exact size, dimensions, and colors you need.
We also provide a full suite of exotic fish, additional accessories, and scenic backgrounds (you can also request a custom background).
Aquarium and Aviary Servicing and Maintenance
Why burden your team with extra work of cleaning and maintenance?
We'll handle that for you.
With our aquarium service and aviary service packages, a local service tech will clean and maintain your unit, and also provide health checks for your animals. Pair this with our innovative auto feeders, and you'll rarely lift a finger!
We also offer free delivery and installation for our commercial aquariums and bird aviaries!
The best part? You get all of this and more for a low monthly fee and no up-front cost!
Other
Industries we Serve
Reach Out for a Free Consultation
Interested in how our aquariums and aviaries can improve the atmosphere of your business?