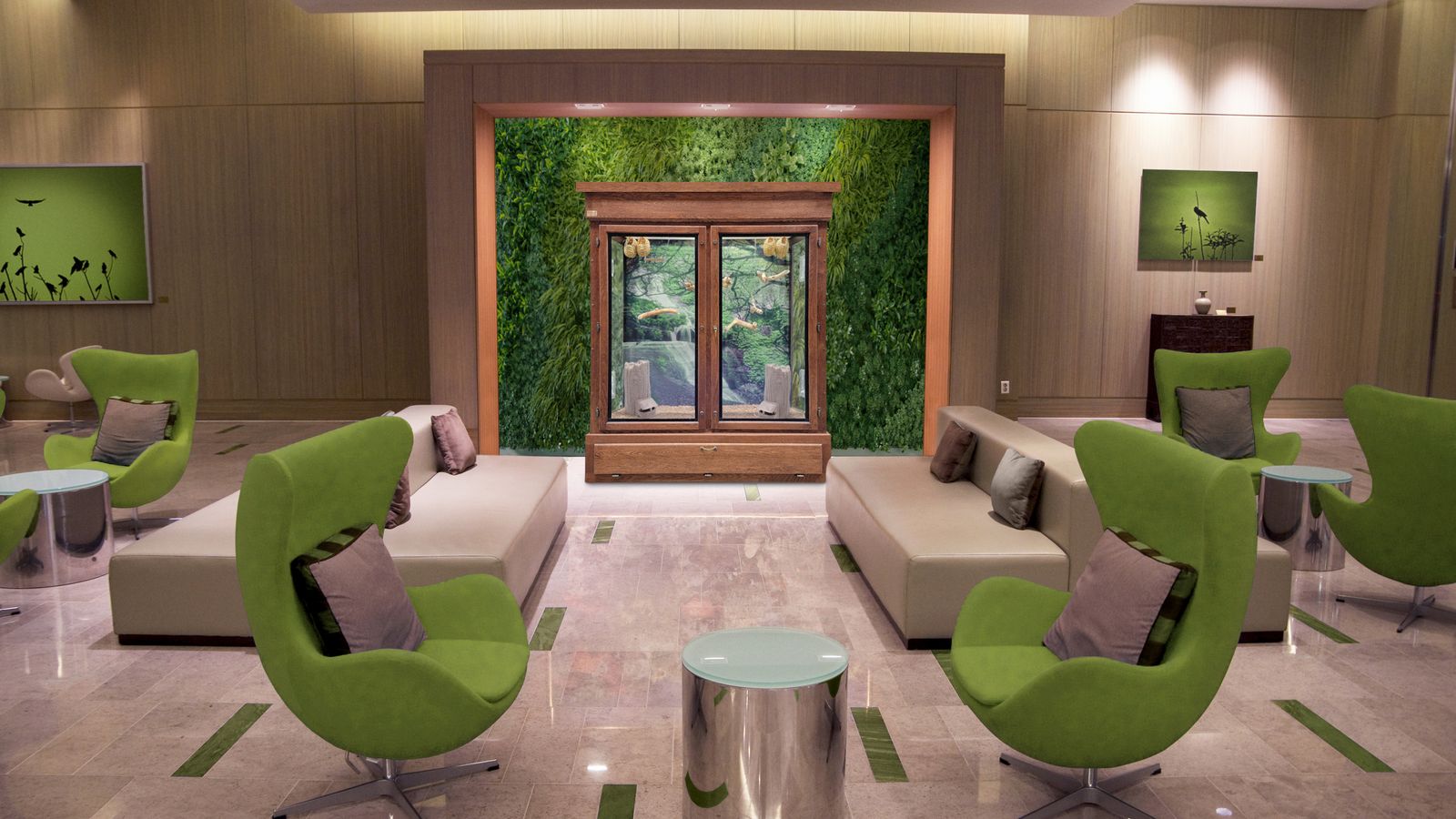 Hotel Lobbies
Large aquariums and aviaries are popular features in hotel lobbies. Serenity fish tanks and bird aviaries add character to the lobby and delight each new guest.
We also offer routine cleaning and maintenance for all the units we lease. This way, you and your guests can enjoy a tank or enclosure without the extra work.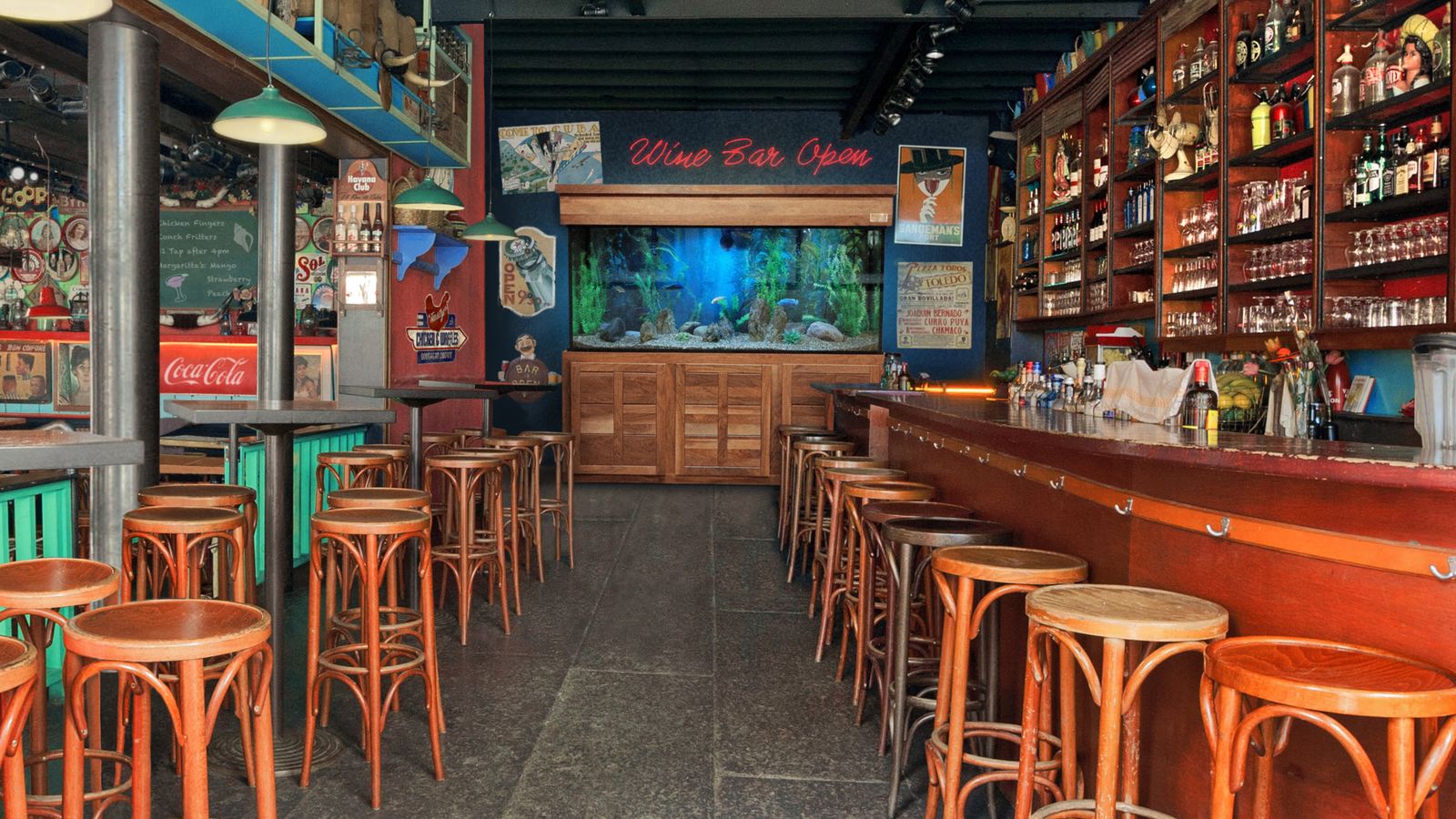 Restaurants
A decorative aquarium is an amazing addition to a restaurant. They provide an enhanced dining experience, as their vibrant colors and fish delight guests of any age.
We cover all the cleaning and maintenance on our aquariums for restaurants. So by leasing an aquarium through Serenity, you really do get a hassle-free experience.
---
Aquariums and Aviaries in Hospitality
Have you ever found yourself mesmerized by the unhurried wandering of fish or the pleasant chirping of colorful birds?
We have, and so have guests at hotels and restaurants across the US. So, it's no secret why we get so many calls from managers wanting our aquariums and aviaries.
What sets us apart from the competition?
Each unit is handcrafted by our sister companies, Custom Cages and Custom Aquariums. They are the industry leaders in the United States for manufacturing custom bird cages and fish tanks. Every unit is built from scratch in our state-of-the-art factory and designed to your specifications.
Not only do people choose Serenity for the quality and beauty of our cages and tanks, but it's our commitment to service that comes with each and every unit.
Our clients have enhanced their atmosphere and guest experience without the need for extra training or time investment from their team. With Serenity, our clients focus on satisfying their guests, and we take care of their aquarium or aviary.
Aquariums and Aviaries Enhance your Atmosphere
Whether you want to create a superior guest experience, or you already have an unparalleled atmosphere, we think adding a large fish tank or bird cage are exceptional ways to impress your guests.
Hotel lobbies and Restaurants use aquariums and aviaries as a way to elevate their ambiance. These decorative pieces may not drive record sales, but they bolster the physical appeal and guest experience of your space.
Our clients feel that their guests deserve a unique experience and a custom unit provided just that. With each aesthetic decision you make, you develop your company culture. And whatever that culture is, we will craft an aquarium or aviary to reflect that.
The Benefits of Natural Decor
Did you know that adding natural elements to your space can improve your guests' moods and increase employee productivity?
According to a report by Human Spaces, people who worked around natural elements saw their productivity increase by 6%. It was also reported that their well-being and creativity raised about 15%.
This is the value of Serenity Aquariums and Aviaries in hospitality.
A Custom Look just for your Space
With your help, we'll design an aquarium or aviary suited for your décor. For the exterior, you may adjust the shape, size, materials, and color scheme.
For inside the unit, we provide many colorful, exotic birds and fish, additional accessories, and a serene backdrop that you choose from our list. You can also request a custom backdrop to better promote your unique brand.
Cleaning and Maintenance are On Us
Delighting your guests is what you do best. So, why burden your team with the extra work of maintaining a bird aviary or fish tank? Leave it to us, because that's what we do best.
With our all-inclusive service plans, an experienced service tech will clean and maintain your unit while providing health checks for your animals. Combine this with our patented products, and you can just sit back and enjoy the view.
But we don't stop there…
We offer free delivery and installation to any of the states we service. So, you'll get a world-class aquarium or bird cage, exotic animals, supplies, and scheduled service visits for a low monthly fee and no up-front cost!
Other
Industries we Serve
Reach Out for a Free Consultation
Interested in how our aquariums and aviaries can improve your atmosphere?