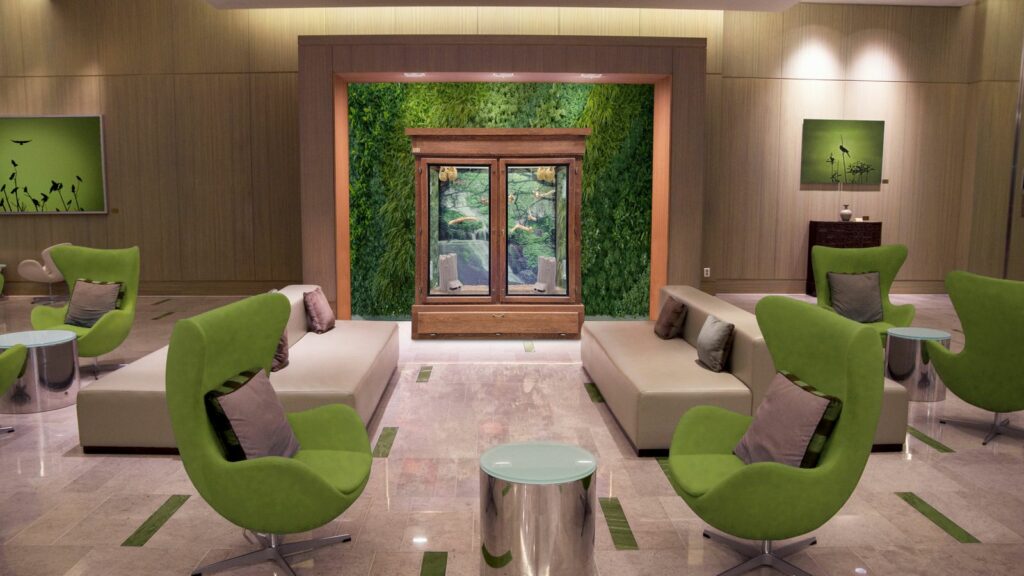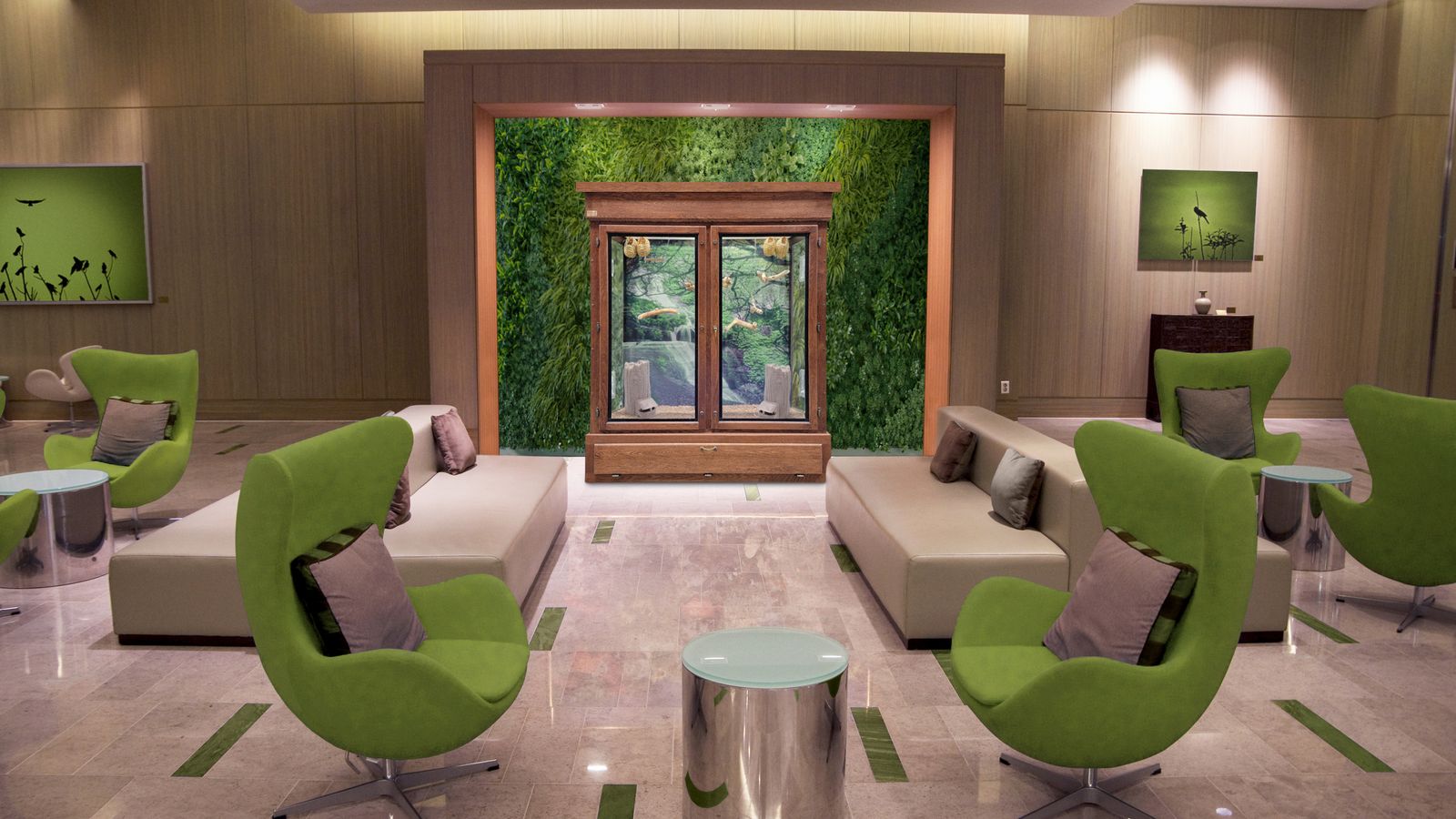 Hotel guests' behaviors are changing. People are spending less time in their hotel rooms and more time in communal spaces.
As a result, hotel lobbies are becoming more spacious, comfortable, decorative, and have more sources of entertainment.
We offer entertainment in the form of aviaries for hotels. You don't see many hotel lobbies with elegant bird cages, so this could be a way to differentiate.
Our clients successfully enhanced their atmosphere and guest experience, without the need for expertise and time investment from their staff. They stay focused on assisting guests, and we take care of the aviary.
Enhance your Hotel Guest Experience
A Serenity Aviary can enhance the ambiance throughout your lobby. Our aviaries and their colorful, singing finches are more captivating and engaging than any decoration you can buy.
Visitors will walk into the delightful sound of chirping birds and be surprised by your lobby's pleasant atmosphere. As your desk clerk checks them in, they'll turn to enjoy the sights and sounds of fascinating birds fluttering around your enclosure.
And just like that, you have a successful first impression.
Aviaries for Hotels are Relaxing and Entertaining
Do you offer an area for relaxing in your lobby? Do you think guests would prefer to hang out by a TV showing the news (a large cause of stress), or a habitat of happily singing finches (a proven way to decrease stress)?
One thing we know for sure, when guests have time between their busy schedules, they'll be looking to relax. Not every guest will be drawn to the bird enclosure, but the ones that do will get a calming break amid their hectic travels. Even if just for a few minutes.
A Custom Aviary to Match your Lobby Design
Our sister company, Custom Cages, handcrafts all of our spacious aviaries for hotels. In fact, they are the industry leader in manufacturing build-to-order aviaries. Each unit is built from scratch and designed to meet your specifications.
We'll craft the dimensions, size, and color scheme that you need. Inside the unit, we offer a variety of colorful birds that will enchant your guests. And to finish your aviary, you'll browse our list of accessories and scenic backgrounds, or you may request a custom background.
Simple Aviary Maintenance
We don't want to tie up your staff with cleaning and maintenance.
So, we'll take care of that for you.
We offer inclusive service plans for all our aquariums. And with over 50 service technicians in 40 states, we're never too far away. Our service plans include in-depth cleaning, maintenance, and health checks for your birds. We will provide and replenish materials like food, accessories, and equipment when necessary.
Also, we offer free delivery and installation. So, for the life of the aviary, you and your guests can just sit back and enjoy the view!
Get a Quote
For Your Hotel
Interested in how our aviaries can improve your hotel's ambiance?