Our Aviary
Service & Lease Packages
We offer a range of service options depending on the size of your indoor aviary and the number of birds you desire.
Why do we offer different service packages?
Each nursing home, office building, dentist office, etc. have different needs and space available. We work closely with each client and devise a system that works best for them.
What is the price of our bird cage cleaning service?
The larger the aviary you choose, the more the aviary itself costs to lease. When you lease an aviary, you'll get a hand-crafted enclosure, birds, and all-inclusive cleaning and maintenance. Payment will be made on a monthly basis with no up-front cost to you.
Our aviary services include:
Changing their water
Replacing the bedding
Refilling the bird feeder
Checking the health of your birds
Trimming the birds' nails and beak
If needed, we'll replace accessories like nests, perches, lighting, etc.
NOTE: Each service package offers the same activities but differs in duration between visits. We also provide these services for existing aviaries, even if they weren't built by Serenity!
Aviary Packages and Maintenance Frequency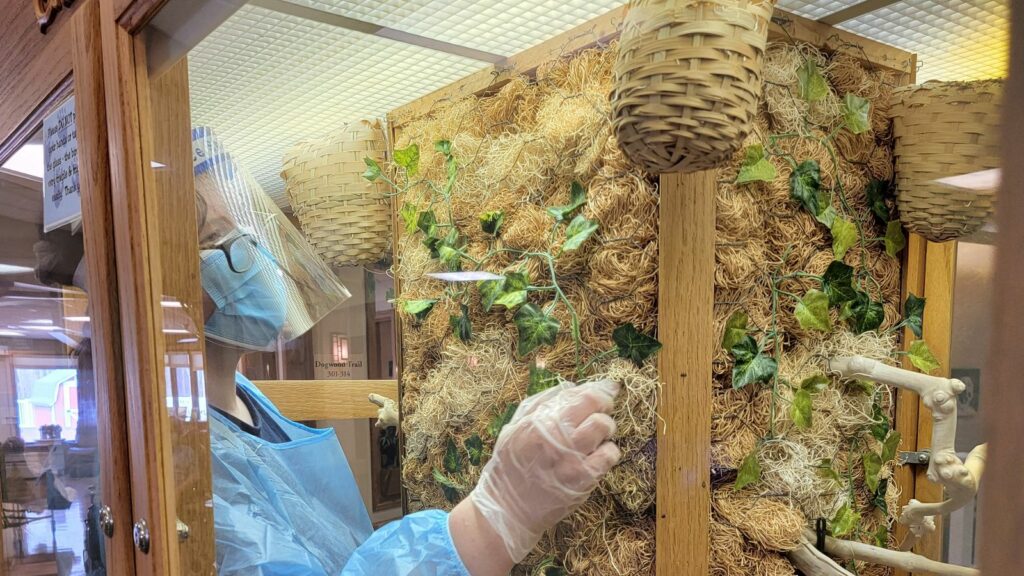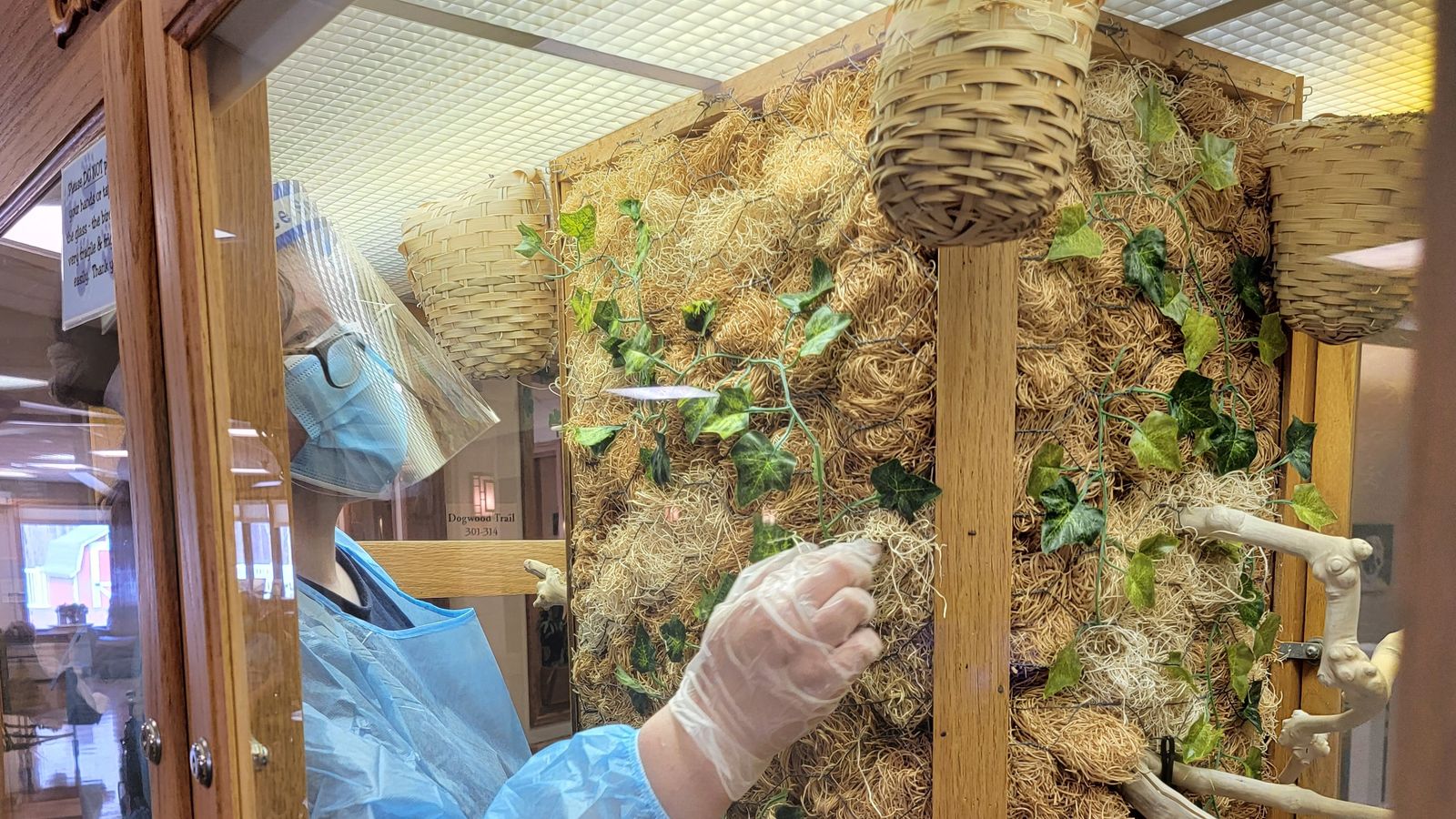 Due to our Infinity Feeder, the ease of maintaining an aviary goes above and beyond the industry standard.
This system holds seed and water for at least 6 months, significantly longer than the typical bird feeder. Meanwhile, the staff at other businesses need to replenish food and water a few times a week.
The Infinity Feeder is available with each aviary service package you see below.
Economy
With the economy package, we maintain your indoor aviary every 3 months. This frequency is the industry standard in the aviary service market. You'll also receive the proper amount and mix of bird species for a peaceful aviary, along with all the equipment and bird seed your birds need.
Deluxe
This package increases the frequency of our aviary services to once every 6-8 weeks. This keeps the aviary looking its best with less worry from your team. Plus, you'll have more than enough birdseed from our service technician to last through that time.
Premium
This program offers an even more enhanced service interval. We provide aviary services every 3-4 weeks to ensure your birds are happy and healthy. We provide an adequate number of standard finches, 2 or more premium finches, and showcase finches for an extra charge.
Ultimate
Consider this our "hands-free" package as we do everything from cleaning and maintaining, to feeding, to watering. We service your bird enclosure on a weekly basis to provide all the cleaning and feeding your finches need. You can just sit back, relax and enjoy your new friends!
---
What to learn more about service plans and pricing? Request your free quote today!
What are
Your Responsibilities?
You enjoy the birds. We'll take care of the rest!
Once a week, we recommend cleaning the windows on your indoor aviary. This process is very simple and only takes a couple of minutes. The result is a crystal clear viewing experience for the life of your aviary.
Our aviaries come equipped with a window shade to keep the birds inside while opening the door. Our service rep or customer support team can help walk you through this process. We also ask you to remove any deceased birds as they occur.
We give you more than enough food and supplies to last until our next service date. Your service tech will also show you how to do any necessary activities. But be confident there will be no mess, no waste, and no fuss!
---
Frequently Asked Questions
How long does it take to clean an aviary?
It takes our service techs around 1 to 2 hours to deep clean an aviary. This time frame may vary slightly depending on the complexity of your aviary.
What is the cost of an aviary service package?
The cost of an aviary service package depends on the size and complexity of your aviary. But for each service package, there is no upfront cost, followed by a low monthly fee.
Can Serenity service existing aviaries?
Yes! Many of the aviaries we service are existing units not built by us. We offer a straightforward process for getting your first aviary cleaner or for switching to us from another provider. You can find more information here.
How often should a large aviary be cleaned?
The more birds you have, the more often the aviary should be cleaned. However, the industry standard for aviary cleaning frequency is once every three months. We offer service packages for a shorter frequency if that better suits your needs.
How many birds can I put in my aviary?
The number of birds we include with your cage will depend on the size of the unit. An aviary with too many birds is a major cause of stress for them, so you should never overcrowd them. We will determine the proper amount of finches and canaries for your specific aviary.
Contact Us Today
To Learn More About Our Aviary Services