Serenity Aviary
Leasing & Services
Are you looking for aviary leasing options for your business?
Indoor aviaries have been growing in popularity, as interior design trends are shifting towards nature-focused décor. The problem is, maintaining a spacious aviary with a collection of birds can be difficult, time-consuming, and expensive.
For this reason, Serenity offers a number of aviary lease options, along with routine cleaning from one of our pros. Plus, you'll pay no upfront cost and a low monthly fee for the aviary and ongoing services.
Aviary Leasing
We build, deliver, and professionally install bird aviaries for businesses in the US. We provide all the equipment, birds, food, and decor.
We will also replace any equipment and birds if need be, free of charge.
Aviary Services
In addition to our aviary lease packages, we provide routine aviary services.
We deep clean your existing aviary and replace food, water, decor, and provide bird health checks. So, you can just sit back and enjoy the view.
Our Aviary
Leasing Options
Each package is differentiated mainly by the size of the aviary. Read on to see the standard dimensions of our aviaries, along with the total overall dimensions that include the stand and canopy.
Keep in mind, we can craft an aviary of almost any size or orientation, so prices may vary depending on your specific design. If you have your eye on a certain style, reach out to us today for a free consultation!
---
Aviary Lease Package 2 – (60″H x 48″L x 24″D)
Total Overall Dimensions – (83″H x 54.2″L x 27.5″D)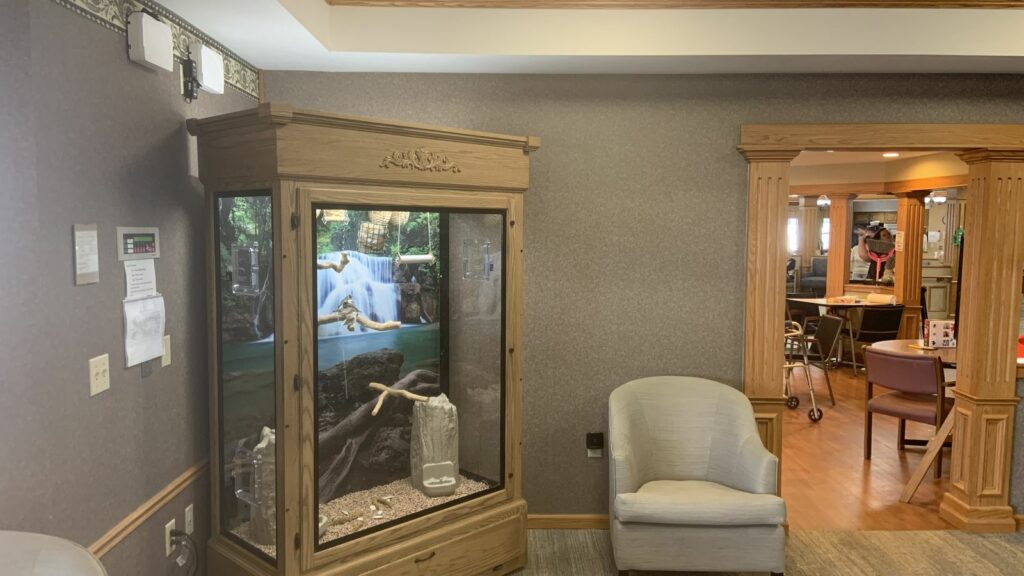 Aviary Lease Package 3 – (60″H x 34″L x 34″D)
Total Overall Dimensions – (83″H x 40.2″L x 37.5″D)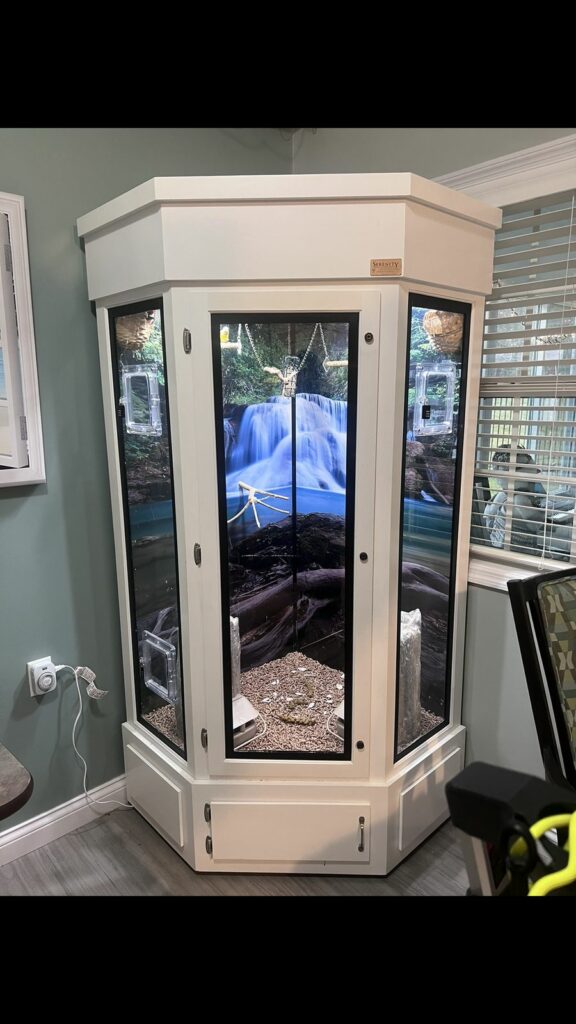 Aviary Lease Package 4 – (60″H x 48.5″L x 48.5″D)
Total Overall Dimensions – (83″H x 54.6″L x 52″D)
Aviary Lease Package 5 – (60″H x 60″L x 30″D)
Total Overall Dimensions – (83″H x 66.2″L x 33.5″D)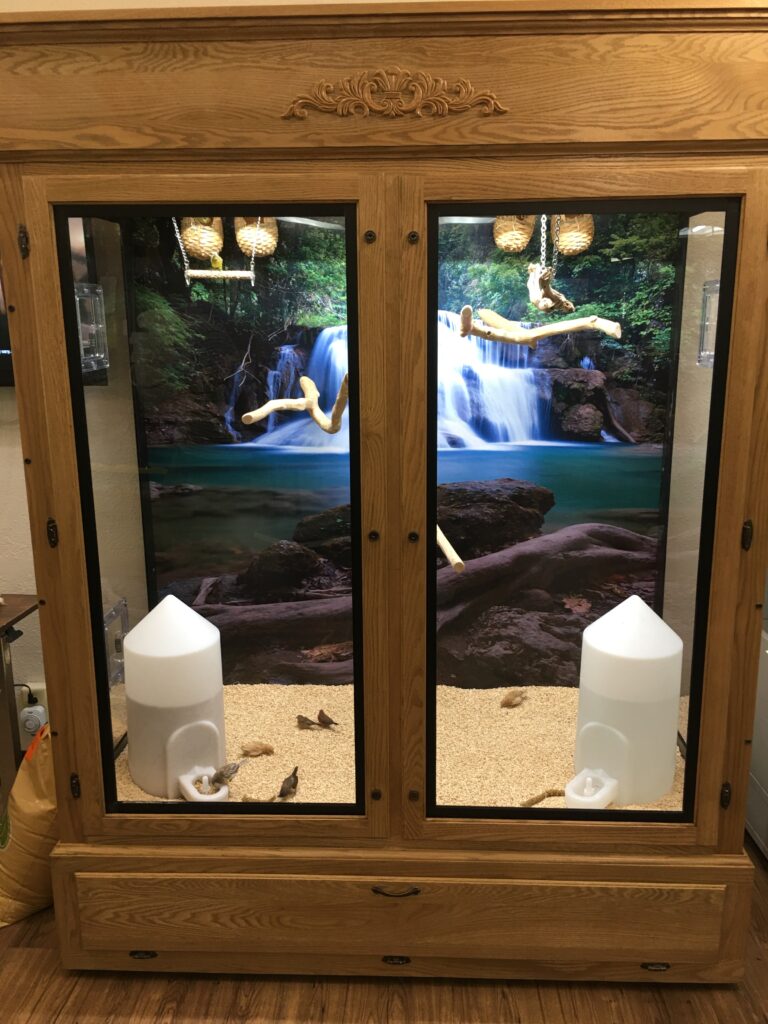 Aviary Lease Package 6 – (60″H x 96″L x 30″D)
Total Overall Dimensions – (60″H x 102.2″L x 33.5″D)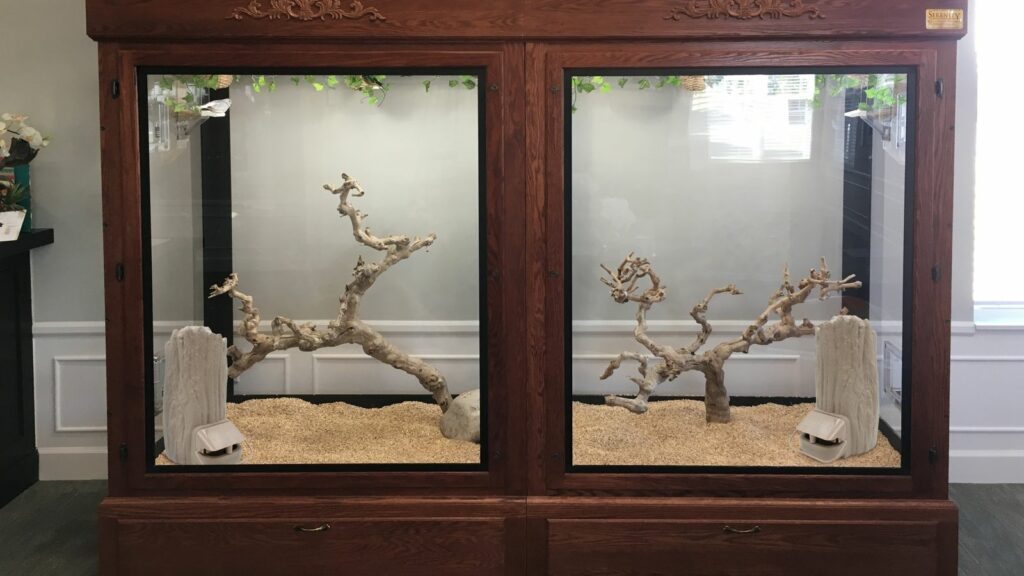 Do you want more information on our aviary lease packages? Contact us today!
Or, keep reading to see why our clients choose to lease an aviary instead of buying one.
The Benefits of Aviary Leasing
Less Time Investment
Your team has many tasks to worry about and cleaning an aviary shouldn't be one of them.
Our routine cleaning services will save your staff a lot of time and worry, and you still get to enjoy a beautiful bird aviary. We will also deliver and install the unit at your location free of charge.
Lower Costs
We want to give you all the amazing stimuli from a bird aviary, while also keeping money in your budget.
Aviaries of this size and quality will cost thousands of dollars upfront. But if you lease an aviary through Serenity, you will only be responsible for a low monthly fee. You'll find that it's much less expensive than buying an aviary outright. Not only that, but you'd be missing out on our professional services.
Prices may vary depending on the service frequency you choose, or if you decide to not have us service your aviary.
A Cleaner Aviary
Here at Serenity, we've been servicing aviaries for almost 15 years. As such, we have the tools, time, and expertise to effectively deep clean these enclosures.
Sure, someone on your team can maintain your aviary, but why take chances?
A dirty aviary with struggling birds doesn't bode well for any business. We will ensure that the aviary keeps a clean, healthy look for as long as you have it.
Healthier Birds
If birds are getting sick frequently, that aviary won't be a good addition to your space. Thankfully, our exclusive products and services lead to much healthier birds in our aviaries.
For example, we include our Infinity Feeder in each aviary lease. This feeder/waterer holds plenty of food and water, while keeping them fresher than any product on the market. In fact, since we've added the Infinity Feeder, we've noticed a sizable drop in birds getting sick.
Committed Aviary Service Schedule
Our headquarters is in Neenah, WI, but we have over 70 skilled service techs in 40 states across the country. Since we're local to so many areas, we are consistently on time and efficient on each service visit. We can also clean existing aviaries even if they weren't built by Serenity.
Plus, we have a lot of scheduling flexibility, so you can devise a service frequency that works best for you.
Contact Serenity About Aviary Leasing Options
If you are interested in one of the packages above, or you have general questions, give us a call or email.
Our customer support team will be happy to help anytime during business hours!
Contact Us Today
To Learn More About Our Aviary Leases