Serenity Aquarium
Leasing & Services
Have you considered leasing an aquarium for your facility?
Why not lease from a company that provides cleaning services, too? Our clients get a zoo-quality aquarium, plus professional services that take the hassle out of having a fish tank!
Aquariums of this quality alone will cost thousands of dollars. But with a Serenity aquarium lease, you will pay nothing upfront. We charge a low monthly fee that covers the aquarium and routine services. And if necessary, we replace any equipment, livestock, and food, free of charge.
Aquarium Leasing
An aquarium lease through Serenity will get you more than just a fish tank. We build from scratch with the best materials, and we deliver and install aquariums across most of the US.
We provide all the equipment, fish, food, and decor for an excellent aquascape.
Aquarium Services
A local service tech will regularly visit your facility for aquarium maintenance, livestock care, and to answer any concerns or questions you have.
We also offer services for pre-existing aquariums, even if they weren't leased from Serenity.
Our Aquarium
Leasing Options
Each aquarium lease package is characterized by the size (in gallons) and shape of the aquarium you desire.
Below you'll find our standard lease options, the size of each fish tank, and the overall dimensions of that unit (including the stand and canopy).
Keep in mind, the aquariums below are standard designs. All our aquariums are built to order and can be customized by you. If you have a different size or orientation in mind, please reach out to us today and we'll get started!
---
Corner Aquarium Options
These aquariums are designed to fit squarely in the corner of a room. They are shaped into pentagons so the fish and decor are viewable from anywhere in that space.
140 Gallon Pentagon Corner Package – (31″H x 54″L x 38″D)
Total Overall Dimensions – (70″H x 59″L x 43″D)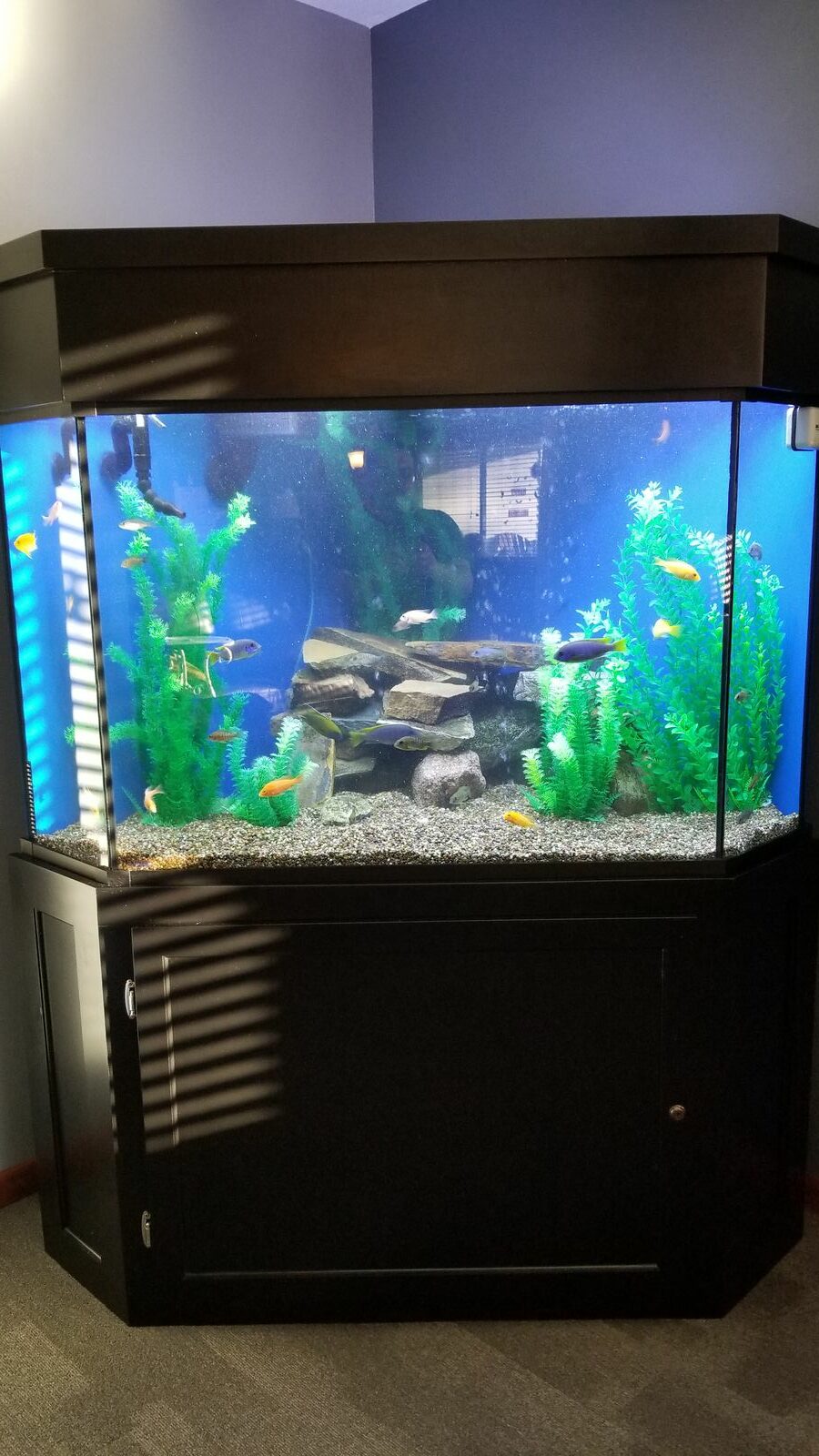 ---
360° Viewing Options
These aquariums are designed to be placed in the center of a room, as the aquascape is viewable from all sides of the unit.
200 Gallon Hexagon Package – (31″H x 51″L x 44″D)
Total Overall Dimensions – (70″H x 56″L x 49″D)
---
Rectangle Aquarium Options
These aquariums are very spacious and the interior of the tank is viewable from the front and sides. The back of the aquarium has a scenic backdrop image that you select from our options, or you may request a custom backdrop to better match your aesthetic.
90 Gallon Rectangle Package – (31″H x 36″L x 18″D)
Total Overall Dimensions – (70″H x 41″L x 21.125″D)
115 Gallon Rectangle Package – (31″H x 48″L x 18″D)
Total Overall Dimensions – (70″H x 53″L x 21.125″D)
180 Gallon Rectangle Package – (31″H x 72″L x 18″D)
Total Overall Dimensions – (70″H x 77″L x 21.125″D)
240 Gallon Rectangle Package – (31″H x 72″L x 24″D)
Total Overall Dimensions – (70″H x 77″L x 27.125″D)
300 Gallon Rectangle Aquarium Package – (31″H x 96″L x 24″D)
Total Overall Dimensions – (70″H x 101″L x 27.125″D)
If any of these aquarium options interest you, you can request your free consultation today!
Just visit our Contact Page, and click on "New Service Consultation".
Or, if you want to learn about the benefits of leasing an aquarium, read further!
---
Primary Benefits of Leasing an Aquarium Instead of Owning
Lower Costs
An overlooked aspect of aquarium ownership is the ongoing costs of food, fish, equipment, water additives, underwater decor, and repairs.
Aquarium leasing is a good way to avoid these costs, as there is no upfront cost and you'll pay a low monthly fee for us to take care of it. When you factor in the cost of the aquarium itself, plus equipment and routine services, you'll find that it's less expensive than you think.
How much does an aquarium service cost?
Aquarium leasing through Serenity gets you a spacious aquarium, exotic fish, equipment, decor, maintenance, and a dedicated customer service team. Price will vary depending on the size of your aquarium and the service frequency you choose.
If a mechanical part breaks, we fix or replace it free of charge. If fish need to be removed, we replace them free of charge. And if you have any questions or concerns, you always have access to our expert support team.
A Cleaner Fish Tank
We've all seen a fish tank one time in our lives and thought, "Yikes..".
This isn't a word you want to cross your customers' minds.
We can ensure that your aquarium is an asset to your facility, not a liability. Fish tanks are known to reduce stress and relax people in business spaces, but a filthy one may have a negative impact.
If you currently have an aquarium service provider and a dirty fish tank, maybe it's time to check out our services for existing aquariums.
Less Time Investment
Everyone in your company fits a lot of tasks into their day. How many of them can spend a few extra hours deep-cleaning a fish tank? And cleaning out the filtration system? And checking the health of your fish?
You can alleviate these activities, among others, by leasing an aquarium through Serenity. Whether your company is a nursing home, hotel, dentist's office, small retail business, etc., we can provide you with aquarium services.
How much valuable time could that save you?
Healthier Fish
Keeping fish is easy. Keeping fish healthy is much more complicated.
Not only will our products and services make your tank clearer, but its inhabitants will live much healthier lives.
An aquarium is a delicate ecosystem that requires the proper knowledge to keep things running smoothly. In fact, it's common to have fish dying in a seemingly healthy tank and it can be hard to pinpoint the problem. For this reason, having a dedicated support staff on hand is invaluable.
Committed Cleaning Schedule
"I'll clean the aquarium this afternoon", "I was too busy today, I'll clean the tank tomorrow", and so on.
An inconsistent cleaning schedule is a primary cause of a dirty fish tank, as certain routine tasks are needed. If your team is busy from clock-in to clock-out, chances are no one will have the time or desire to deep clean an aquarium.
A benefit of Serenity aquarium leasing is that it's our job to be efficient and on time. Due to our large number of service techs, we have a lot of scheduling flexibility and will devise a plan that works for you. Plus, the aquarium will be much cleaner than if a staff member were to do the same tasks.
Does Serenity offer aquarium services near me?
Our service area covers 40 states across the United States, with numerous service techs in each state.
In fact, we are the largest provider of aquarium leasing and fish tank cleaning services.
Configure Your Aquarium Lease Package Today
Serenity Aquariums are fully customizable, you can choose the size, dimensions, materials, and colors of your unit. Prices may vary depending on the adjustments you want to make.
What is included in my aquarium lease?
Each lease includes the aquarium, all of its equipment, fish, routine maintenance, cleaning, and a lifetime warranty for the entire aquarium. If any equipment or fish need to be replaced, we will take care of it at no additional charge to you.
Are you interested in leasing a Serenity Aquarium for your facility?
We welcome you to learn more about Serenity. Or, contact us today and we'll start building an aquarium lease package that fits your needs!
Contact Us Today
To Learn More About Our Aviary