Comprehensive
Aquarium Services
Do you want an aquarium at your facility but don't have the time to maintain it? Is your current commercial fish tank getting dirty fast? If so, you're not alone.
Balancing a fish tank's ecosystem is not easy. Aquarium maintenance, fish tank cleaning, and fish health checks are all vital for a healthy tank. And we'll take care of it for you.
Fish Tank Cleaning Service
We clean the glass inside and out, scrub and vacuum rock walls and gravel, remove and replace decorative plants, replenish the tank with fresh water, and inspect the health of your fish.
Our service technicians make sure everything is clean and in good working order at each fish tank cleaning service visit.
Aquarium Maintenance Service
We inspect each mechanical part of your aquarium. These accessories include the Seamless Sump®, overflow and return systems, air pumps, bubble wands, lighting fixtures, UV sterilizers, heaters, chillers, and the auto feeder.
If your service tech notices any issues with the equipment, those parts will be replaced at no extra charge to you. Does Serenity provide aquarium services near me? Check out our service area!
Existing Aquarium Modification
If you don't have a Serenity Aquarium, we can modify and or service your existing aquarium, resulting in a better viewing experience and less work for you and your staff.
If you want to learn more about upgrades for your aquarium, you may contact us directly.
Our Aquarium
Service Packages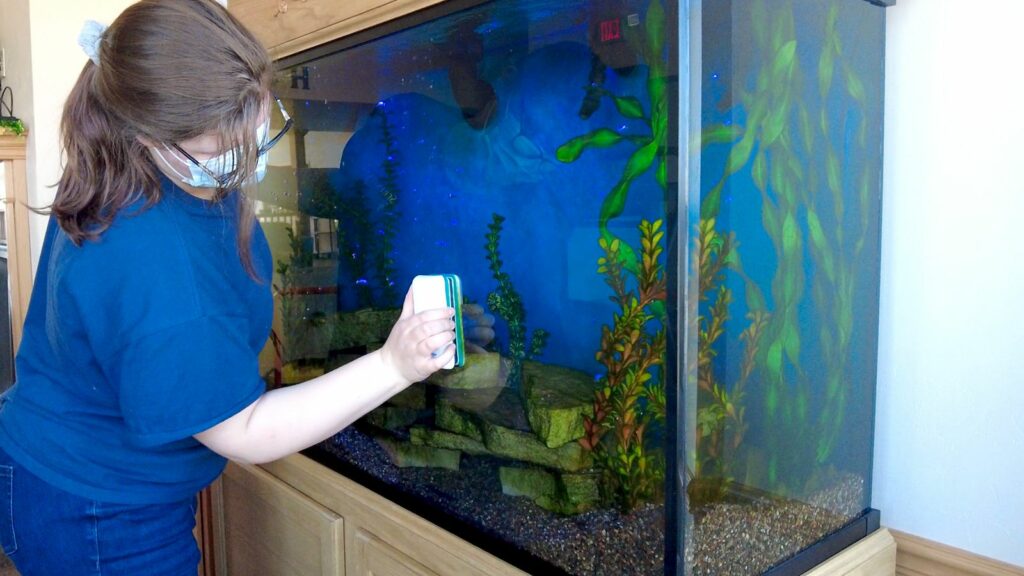 We offer a range of service options depending on space limitations and how elaborate of a setup you desire. Each package includes delivery and a professional aquarium setup service.
Why do we offer multiple service packages?
Each facility has different needs and space available. We work closely with each client to devise a system that works for them.
How much do aquarium services cost?
Our clients pay no upfront cost and a low monthly fee for services. Prices will vary depending on your chosen service frequency.
Aquarium Services Catered to Your Needs
Deluxe Package
This is our most popular aquarium services package. This plan keeps a low budget in mind but still offers great value. We include a good mix of large, medium, and small fish, as well as a full range of décor. For an additional charge, you may add Showcase Fish to your aquarium.
Our Auto Fish Feeder holds enough food to easily last between visits. Our service technicians provide aquarium maintenance and cleaning every 6-8 weeks.
Premium Package
This package is designed for a more enhanced display. We include about twice the mass of fish compared to the Deluxe Package. Significantly more large, medium, and small fish will be included, along with a full range of accessories. You also receive Showcase Fish at no extra charge.
We provide you with enough food and supplies to last you until our next visit. Our experienced service reps will provide aquarium services every 3-4 weeks.
Ultimate Package
This is our fully loaded service package. This program includes the same number of large, medium, and small fish as the Premium Package. This is to keep the aquarium from getting too cluttered and causing stress to the fish. Like the others, a full range of décor is included to go with your fish friends. And at no extra charge, you may choose from our list of Showcase Fish for your tank.
We call this our "hands-free" package because we visit every week to provide aquarium services. You can sit back and relax because we'll even feed the fish for you.
---
Do you want to learn more about service plans and pricing?
Aquarium Service Activities
Each package offers the same maintenance activities but differs in service frequency.
Our service activities include:
Changing the water
Fish tank cleaning inside and out
Cleaning the filtration system
Checking the health of your fish
Replacing any fish or components, if necessary
Cleaning and/or replacing rock walls and plants
Refilling food in the automated feeder
What are
Your Responsibilities?
Every few days, we ask that you complete a few tasks for the best experience with your fish tank. Use our magnetic glass scrubber to clean the inside of the glass. This keeps the glass crystal clear between aquarium service visits. Our service technician will show you this process and it should take no more than 5-10 minutes. We will do a more in-depth cleaning of the rocks, accessories, and filtration systems on our service visits.
When needed, we recommend topping off the tank with a pitcher of water to replace any that has evaporated. We also ask you to remove any deceased fish and floating food if this occurs. If you have the Ultimate Package, however, all aquarium cleaning will be taken care of for you!
FAQ
I already have an aquarium. Can you clean and maintain it?
Yes! We clean and maintain many aquariums not built by Serenity. However, there are certain limitations depending on your current tank setup. Please get in touch with us by phone or email and we'll discuss your unit's layout and options for aquarium services.
How much does a routine aquarium cleaning service cost?
The cost of our aquarium cleaning service depends on your chosen service frequency. Our fish tank cleaning and maintenance activities are a constant for all packages, so the more often we visit your facility, the higher your monthly payment will be.
Why is my tank getting dirty so quickly?
A fish tank can get dirty quickly for a few reasons. Placing an aquarium in direct sunlight increases algae growth. Large fish, and a large number of fish, can produce a lot of waste and bacteria. Also, there may be an issue with your filtration system if the water isn't cycling correctly.
Will you replace fish if they die?
We will replace fish if they die at no extra charge to you. If you notice dead fish in your fish tank, please remove them and let us know right away. We will add new fish during our next aquarium service visit.
Contact Us Today
To Learn More About Our Aquarium Services