Commercial
Aquarium Services
Do you want an aquarium at your facility but don't have time to maintain it?
You're not alone.
When fish tank maintenance is too difficult or time-consuming, we'll take care of it for you.
Fish Tank Cleaning Service
We wipe the glass inside and out, scrub and vacuum decor, replace plants, replenish the tank with fresh water, and inspect the health of your fish.
Your aquatic habitat will look and feel like new after each aquarium service visit.
Aquarium Maintenance Service
If your service tech notices issues with any equipment, those parts will be replaced at no extra charge to you.
Does Serenity provide affordable aquarium services near me? Check out our service area!
Existing Aquarium Modification
Don't have a Serenity Aquarium? We can service your existing aquarium, resulting in a better viewing experience and less work for your staff.
If you want to learn more about services for your commercial fish tank, you may contact us directly!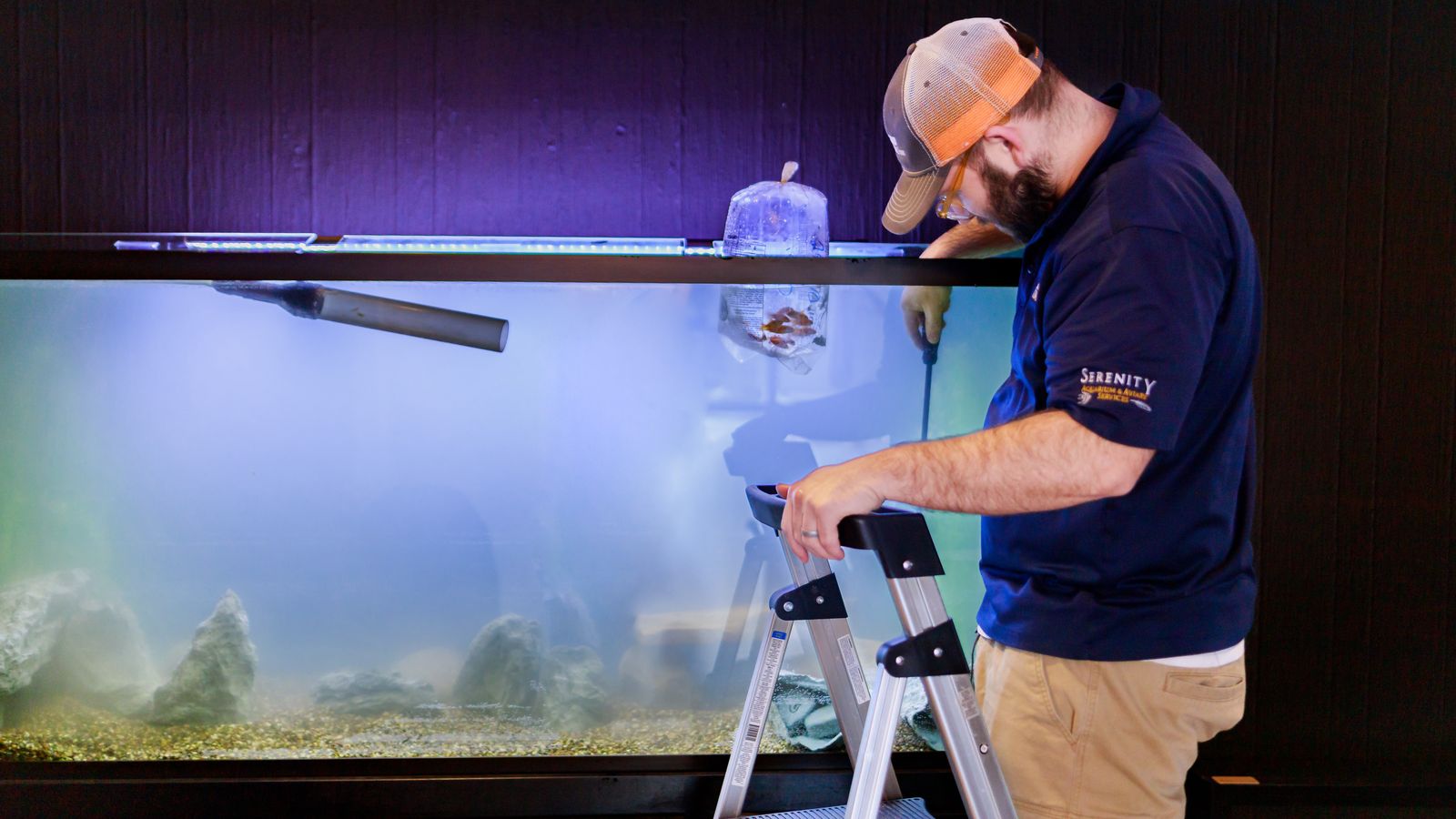 Aquarium Service Packages
Full Suite of Services
Each package includes the following service activities:
Changing the water
Cleaning the tank inside and out
Cleaning the filtration system
Checking the health of your fish
Replacing any fish or equipment
Cleaning or replacing decor
Refilling the automatic feeder
Deluxe Package (Most Popular)
This plan keeps a low budget in mind but offers companies great value:
Service Frequency: Every 6-8 weeks
---
Premium Package
This package is designed for a larger and more enhanced display:
Service Frequency: Every 3-4 weeks
---
Ultimate Package
This is our hands-free package due to frequent service visits:
Service Frequency: Every Week
---
What are
Your Responsibilities?
Every few days, we ask that you use our magnetic glass scrubber to clean the inside of the glass, a task that should take no more than 5-10 minutes.
During our service visit, We'll do a more in-depth cleaning of the rocks, accessories, and filtration, and we'll refill your auto feeder.
When needed, we recommend topping off the tank with a pitcher of water to replace any that has evaporated.
We also ask you to remove any deceased fish and floating food if this occurs.
FAQ
Does Serenity provide services to private residences?
At this time, Serenity does not provide services to private residences. We are exclusively B2B and some of our clients are nursing homes, restaurants, office spaces, hotels, and many more.
Does Serenity provide services in my state?
Serenity currently services 40 states across the US. Check out our service area to see if we provide services in your state.
Why do we offer multiple service packages?
Each facility has different needs and space available. We work closely with each client to devise a system that works for them.
How much does an aquarium cleaning service cost?
The cost of our aquarium cleaning service depends on your chosen service frequency. Our service activities are consistent for all packages, so the more often we visit your facility, the higher your monthly payment will be. Reach out for more information.
How long does it take to complete a fish tank cleaning service?
It typically takes our service professionals 1 to 2 hours to complete a fish tank cleaning service.
I already have an aquarium. Can you clean and maintain it?
Yes! We clean and maintain many aquariums not built by Serenity. Certain limitations depend on your current tank setup, so call or email us to discuss your unit's layout and service options.
Why does my fish tank get dirty so fast?
A fish tank can get dirty quickly for a few reasons. Placing an aquarium in direct sunlight increases algae growth. Large fish, and a large number of fish, can produce a lot of waste and bacteria. Also, there may be an issue with your filtration system if the water isn't cycling correctly.
Will you replace fish if they die?
We will replace fish if they die at no extra charge to you. If you notice dead fish in your fish tank, please remove them and let us know right away. We will add new fish during our next aquarium service visit.
Contact Us Today
To Learn More About Our Aquarium Services