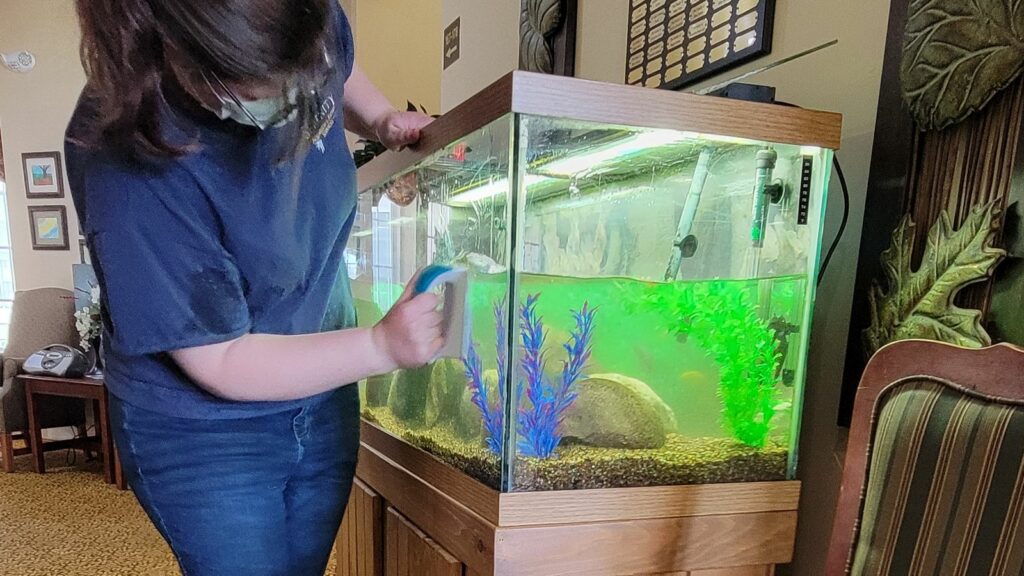 Are you tired of having a cloudy fish tank? Serenity has the solution!
We offer custom-built aquariums, top-of-the-line products, and routine fish tank cleaning services!
An Experienced Team Ready to Serve You
Our sister company, Custom Aquariums, handcrafts each of our fish tanks, while Serenity focuses on the maintenance side of things. This makes us a highly versatile and experienced team.
In fact, Serenity is the largest aquarium cleaner in the USA.
So, whether you want to lease an aquarium, upgrade your own, or change service providers, we'll make that happen!
The Benefits You Can Expect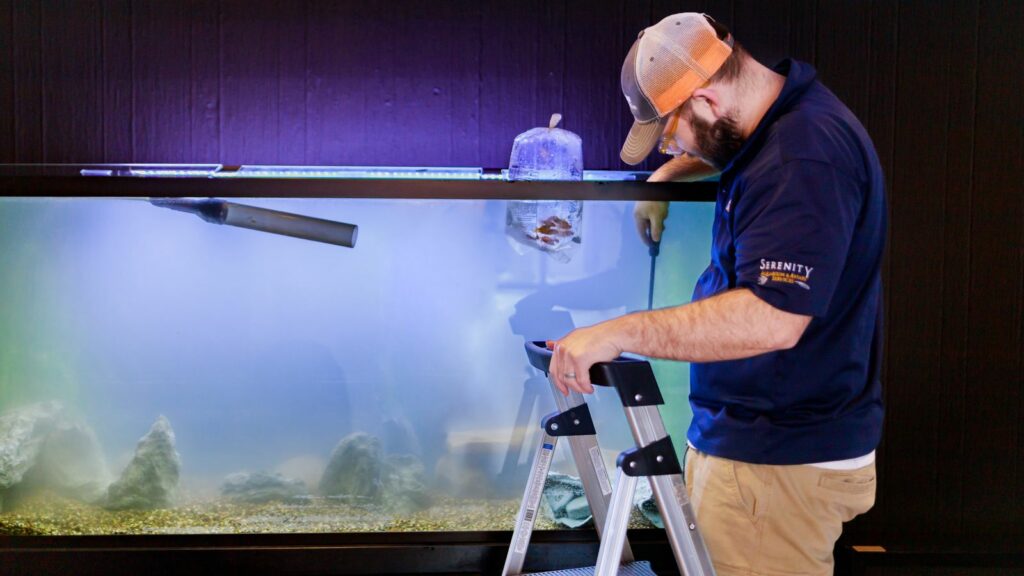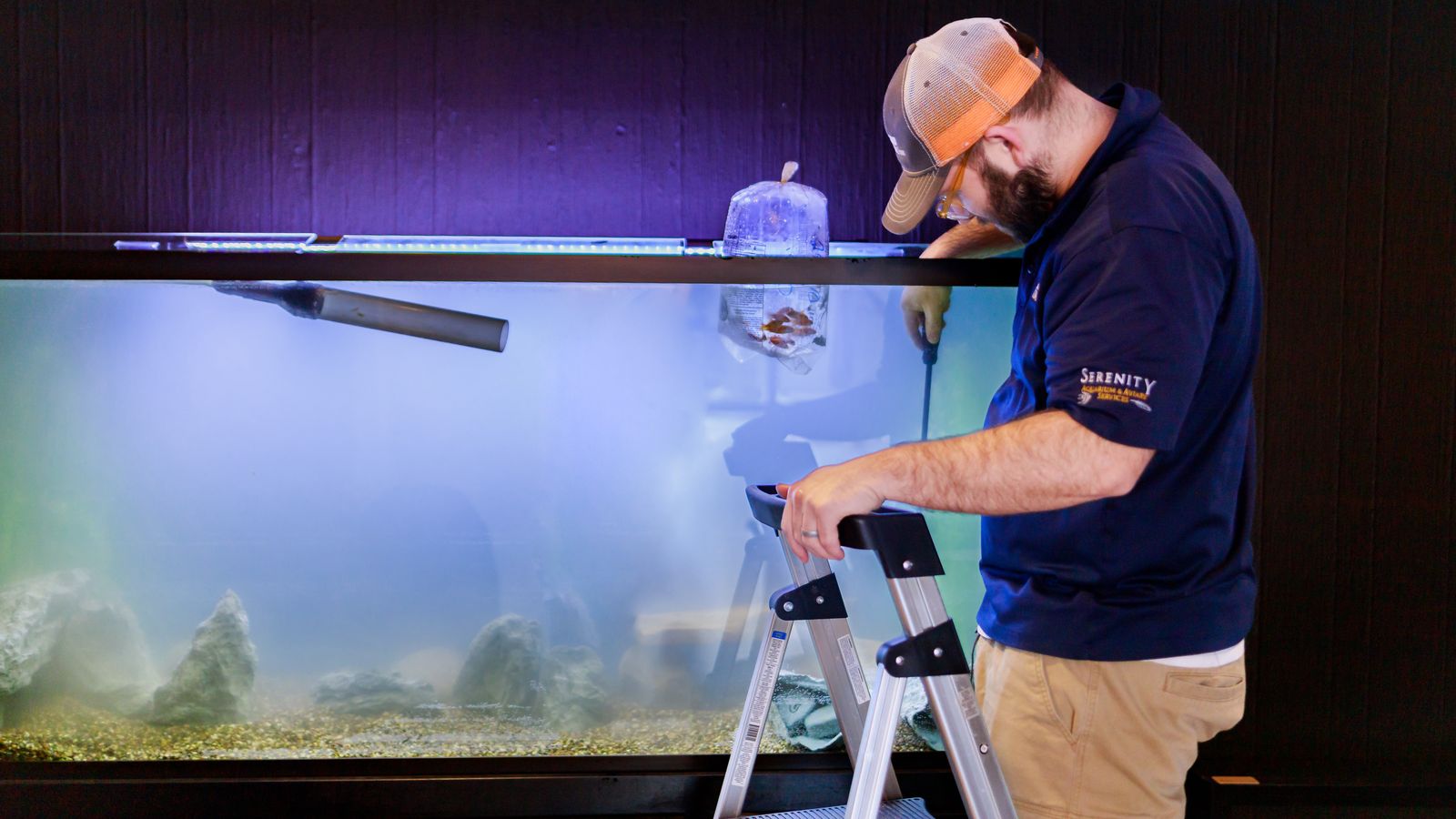 Improved viewing experience
Savings in time and money
More structural stability
Healthier fish
Top-of-the-line mechanical equipment
Free replacement of equipment or fish
Efficient local service technicians
Experienced support team
How to Switch to Our Aquarium Services
STEP 1
Contact us and we'll discuss the current state of your aquarium.
This includes its size, structural stability, how clean it is, and the type of fish in it.
STEP 2
We'll ask for a few images of your aquarium to fully understand your setup.
From there, we'll tailor a service package that meets your needs.
STEP 3
On our first service visit, we'll deep clean your aquarium and add any necessary equipment.
Our first service is the longest because of deep cleaning and possible product replacements.
STEP 4
If you don't have fish currently, we'll provide an assortment of freshwater fish.
If you wish to keep or add to your collection, we'll ensure that all species get along and the tank isn't too crowded.
Aquarium Upgrades and Service Limitations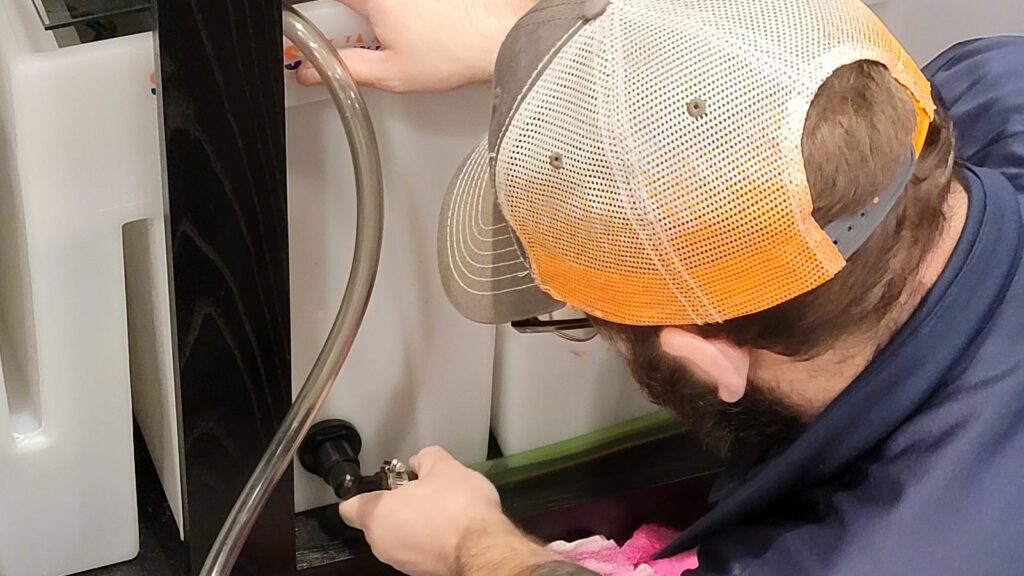 Process for Upgrading Existing Aquariums
Whatever product you're searching for, there's a high chance we have it in stock. Visit Custom Aquariums and search for your desired product or accessory.
One of our most popular products, for example, is the Unstoppable Hopper® Auto Feeder, which takes the guessing game out of feeding your fish!
Our product installation is a straightforward process. We assess the décor of existing aquariums, make adjustments if necessary, and equip those products.
Limitations for Aquarium Upgrades
While we can add products to many existing aquariums, there are some limitations.
For example, to equip our Seamless Sump®, you will need a sump structure already in place. We will not drill holes in a tank to accommodate our system. If you're not sure about your current setup, please contact us with any questions.
Limitations for Aquarium Services
Our service technicians can service any size freshwater or amphibian aquarium. However, we cannot provide services for any saltwater tanks.
Our sister company, Custom Aquariums, offers saltwater fish tanks and additional accessories, but Serenity won't be able to service those units.
If you have any further questions for us, don't hesitate to reach out!
---
FAQ
I already have an aquarium. Can you clean and maintain it?
Yes! Many clients take advantage of our fish tank cleaning and maintenance services, even though they don't have a Serenity Aquarium. There are certain limitations depending on your type of tank, so contact us for more information.
Can I switch from my current service provider to Serenity?
Yes! Many clients have switched to our services from previous providers. We have dozens of technicians throughout the US that will service any type of freshwater tank.
Can I upgrade my filtration system to a Seamless Sump®?
Yes, you can, but you need to have a sump system already in place. Otherwise, we won't be able to modify your fish tank to equip a Seamless Sump®.
How much does a routine aquarium service cost?
Price will vary between service packages. We have a few plans you can choose from. You pay a low monthly fee for routine services on your aquarium. We recommend browsing these plans, then contact us for pricing and more information.
Do you provide a warranty if we upgrade our existing aquarium with Serenity products?
If you add our products to your existing fish tank, they will not be covered under warranty. If you lease an aquarium through one of our service plans, then all products will be covered under a lifetime warranty.
Contact Us Today
To Learn More About Our Aquarium Services