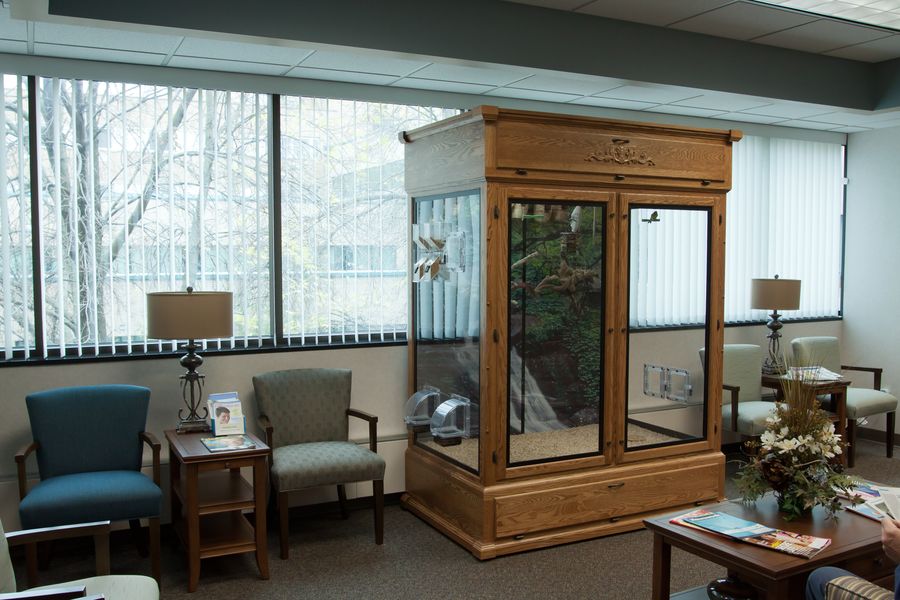 Did you know that everyday encounters with birds can improve your mental wellbeing?
That being said, do you think an indoor aviary could have the same effect in your office space?
Our clients say it has.
An office bird aviary creates a uniquely calming atmosphere. And as your employees feel happier and more relaxed, their productivity and job satisfaction is expected to improve. In fact, small business lobbies also benefit from the sights and sounds of Serenity Aviaries.
Aviaries can Enhance your Office Lobby's Decor
When you look at your office lobby, do you feel your visitors are getting the best possible experience? If not, how can you enhance it?
When TVs and hanging posters aren't enough, you need to think outside the box, and Serenity is here to help.
Bird aviaries for offices and lobbies are delightful and alluring decorations. Creating that kind of atmosphere would be a pleasant surprise for any visitor.
Not only can you customize your aviary to match your brand, but we make it easy to have one with our aviary service packages.
A Custom Aviary for Your Space
Through our sister company, Custom Cages, we handcraft some of the highest-quality aviaries on the market.
We work with many businesses across the country and they all helped us customize their office's bird aviary. With your input, we'll craft the exterior size, dimensions, and colors to suit your lobby.
Inside the unit, we offer a variety of exotic birds and accessories for their comfort and entertainment. And to finish your aviary, you may browse our list of backgrounds, or request a custom backdrop.
Simple Aviary Maintenance
An aviary will increase the appeal of your office's lobby, but what about maintaining it? And making sure the birds stay healthy?
We offer cleaning services for each of our aviaries for offices and lobbies. As the largest aviary service provider, we have service technicians located throughout the US. Our service plans include in-depth cleaning, maintenance, and health checks for your birds. We also provide and replenish materials like food, accessories, and equipment if necessary.
And we don't stop there.
We will also deliver and install your aviary. So, you can just sit back, relax, and enjoy the view.
Get a Quote
For Your Office Fish Tank
Interested in how our aquariums can improve your office or lobby?