You've had your aquarium all set up, stocked with fish in a wonderful aquascape.
But you may notice your fish tank isn't as pristine as it was a couple of months ago. For this reason, you're probably anticipating your first aquarium cleaning, and we want you to know what to expect.
Are you familiar with our fish tank cleaning process? If not, read further for a brief overview of our cleaning activities and how you can prepare your space for our arrival.
Following a Schedule that Works for You
Since we have service technicians stationed throughout the country, we consistently arrive on time and will conduct our service according to the schedule you've set.
Also, throughout your partnership with Serenity, we will work closely with you to give updates, reminders, or any other important information you should know.
Our sole mission at Serenity is to take the stress out of aquarium ownership and our professional technicians, support staff, and dedicated cleaning schedule do just that.
Preparation for the Initial Cleaning Visit
For the life of your Serenity Aquarium, your work will be limited. You'll have only a few tasks for our first cleaning visit as well.
Clear away any furniture or fragile objects from the area around the aquarium. You should also have a clear path from the aquarium to a sink for water changes. We use a 100ft hose that connects the aquarium to a sink, and we use a water-changing system that uses water pressure to clean, drain, and fill your tank.
Other people can be in the room during fish tank cleanings. In nursing homes, for example, many residents enjoy watching the cleaning take place. They will often ask our service techs questions about the cleaning process and the exotic fish inside. Customer relations is a primary aspect of our job and we welcome the engagement and conversation.
Cleaning your Serenity Aquarium
One of our local, professionally trained service reps will perform the service with little to no disruption to your facility.
It will take your service tech between one and two hours to fully clean your aquarium. Some tasks include cleaning the glass, cleaning gravel, draining and refilling the tank, and additional maintenance.
Cleaning the Inner Walls of your Tank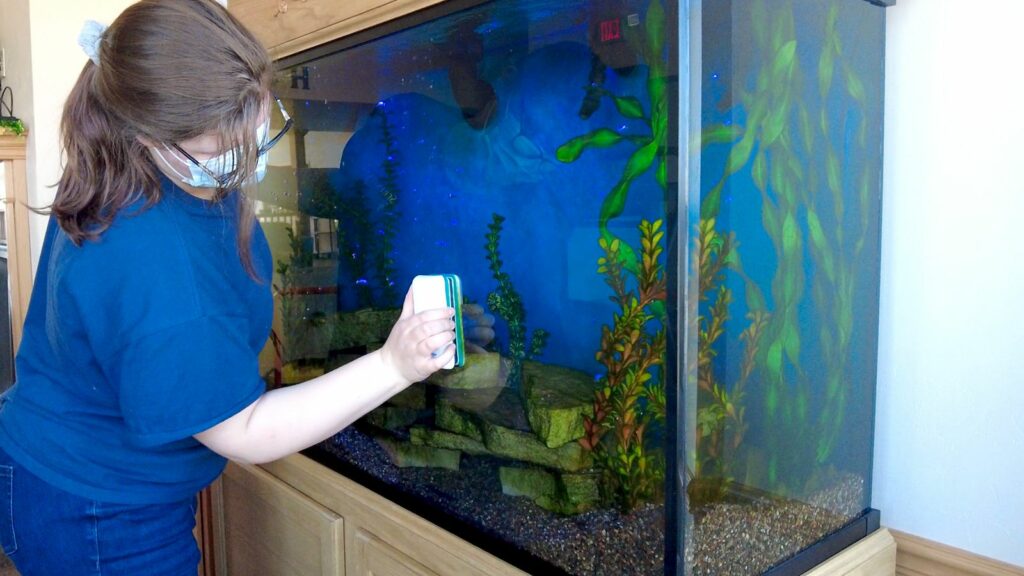 The first step of our cleaning process is removing any algae from the inside of the walls of your tank. We use a magnetic scraper meant specifically for this task. This takes no more than a few minutes and it's a major contributor to a crystal-clear view of the aquascape.
We give you an extra magnetic scraper so you can do this between service visits. Your service tech will demonstrate the glass cleaning process and any other brief client maintenance. Algae may build up on the inner walls every few days, so we ask that you set aside about five minutes a couple of times a week to remove algae.
Cleaning Gravel and Underwater Decor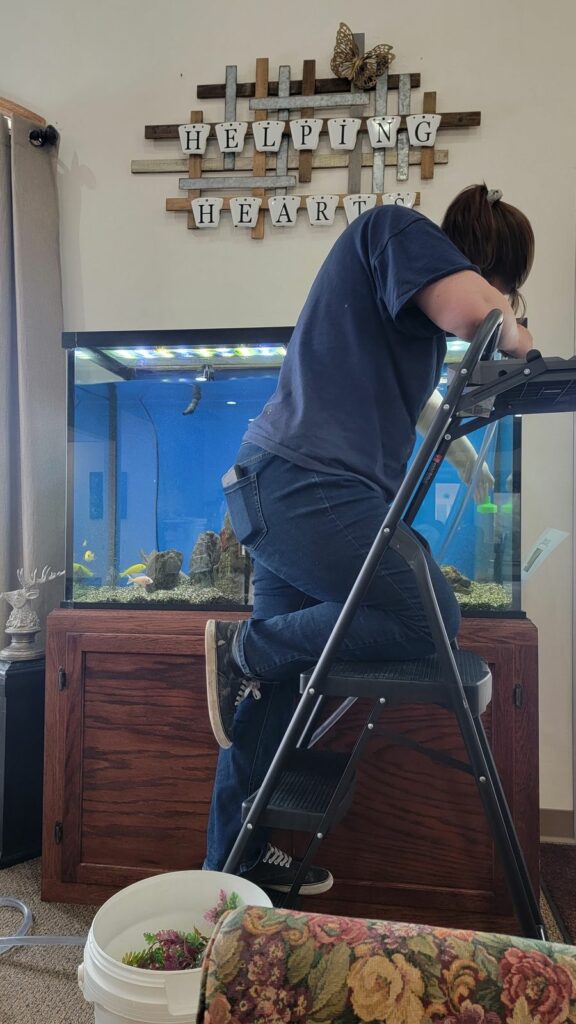 Using a gravel vacuum with a special nozzle, we carefully clean the substrate in your tank. This removes harmful bacteria, old food, dead scales, and other decaying material.
We also remove, clean, and reinsert underwater decor for the same reason. We keep all your fish in the aquarium during this process, which saves us time and limits stress on your fish.
Draining and Refilling the Tank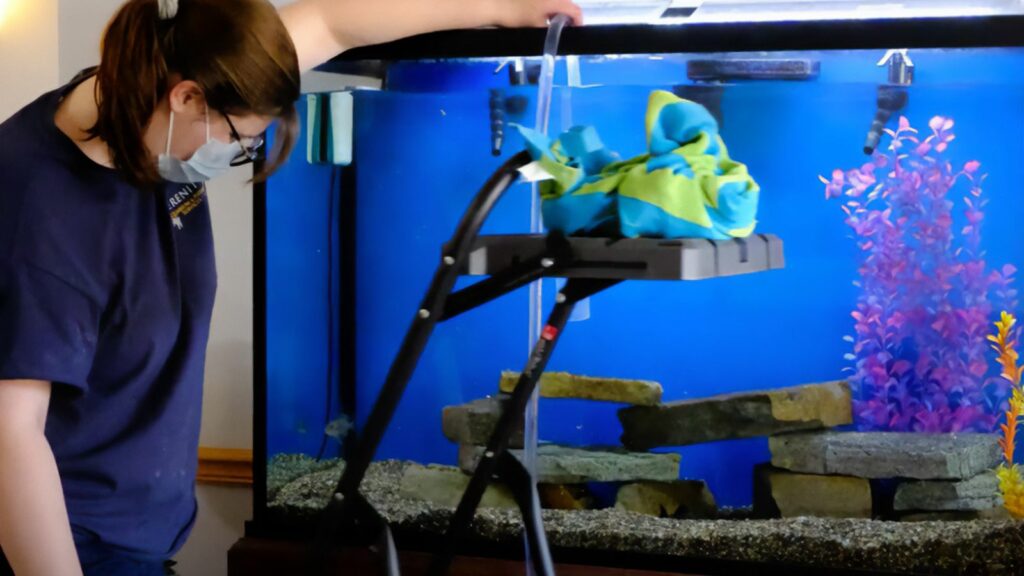 With a 100-foot hose, we efficiently drain and refill your tank. The alternative would be filling a bucket and dumping it in a sink multiple times.
We don't remove all the water, as this could drastically alter the chemical balance in the tank. Visit our fish tank cleaning resource for a more detailed look at our cleaning process.
Aquarium Maintenance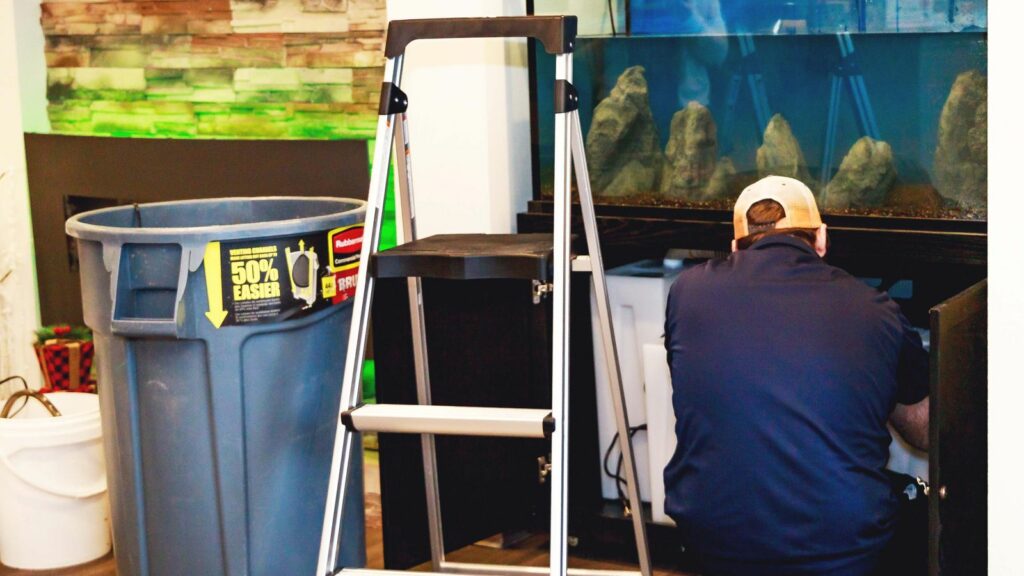 Finally, we drain, clean, and rotate the components of the Seamless Sump®. We then replace the filter sock and bio media that helps maintain a healthy fish tank environment. We'll also replace any equipment or fish if necessary.
Once this is complete, we refill your tank, start up the equipment, wipe off the outside of the glass, and dust off the stand and canopy. These scheduled services ensure that your aquarium stays in the best possible condition, no matter how long you've had it.
All Done!
Your service tech will pack up their equipment, thank you for your time, and head to their next appointment. As we said, this process takes around 1 to 2 hours, so keep that time frame in mind when preparing for your cleaning service.
If you have any additional questions, don't hesitate to reach out. Our dedicated service team will be happy to assist you anytime during business hours!