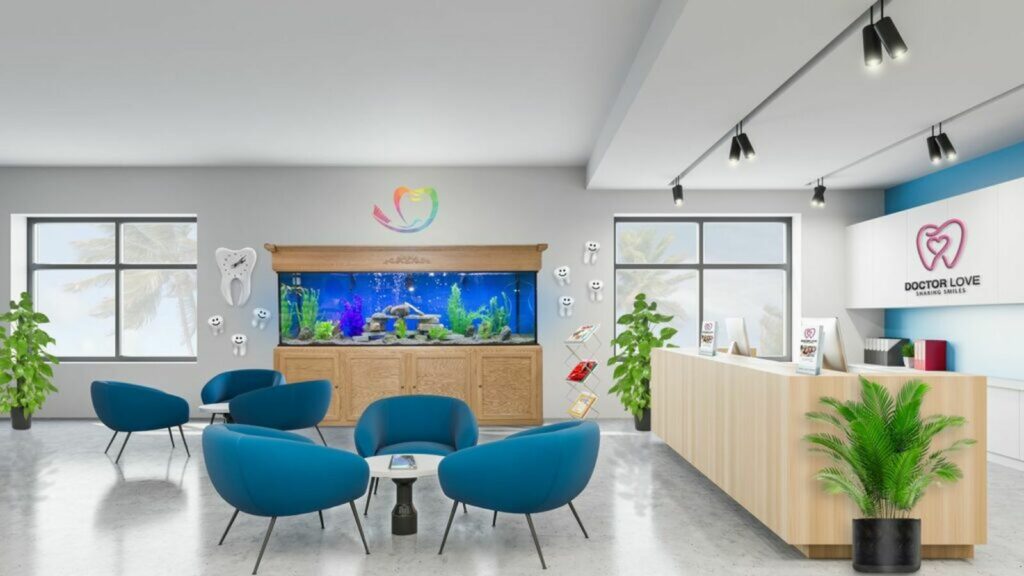 Did you know that over half of the adults in the US have some form of dental anxiety?
No matter how skilled a dentist is, it will always be an issue, so how can you help your guests relax?
Our clients have noticed great results by adding a Serenity Aquarium to their waiting rooms.
Create a Relaxing Atmosphere in your Dentist's Office
A recent study used an aquarium in a dentist's waiting room to test its effects on patients. After a period of observing live fish, participants felt more relaxed and less anxious. The stimuli from an aquarium act as more of a calming agent, as opposed to reading a magazine or watching TV.
You have created loyal patients for your practice. Do you think those loyal members would enjoy watching live, vibrant fish while they wait?
Craft an Aquarium Unique to your Dentist's Office
Our sister company, Custom Aquariums, manufactures all of our aquariums for dentist offices. Custom Aquariums is the leading manufacturer of custom glass fish tanks in the US. Each unit is built from scratch in our state-of-the-art factory and designed specifically for each practice.
You may also personalize the inside of the fish tank. We offer an extensive list of vibrant fish species, scenic backdrops, and additional furnishing items like rocks, plants, and substrate.
Would you like to display your brand in the fish tank? We can do that too! Request a custom background with a company name or logo to complete your unique aquarium design.
Easy Aquarium Maintenance
You and your staff have important jobs and we don't want you tied up by maintaining an aquarium.
So, we offer all-inclusive service packages for all our aquariums for dentist offices. An experienced service technician will regularly clean and maintain your aquarium and check your fish's health. We also provide and resupply materials like food, accessories, equipment, and fish, if necessary.
You'll get a world-class aquarium delivered and installed, along with our fish tank cleaning service, all for no upfront cost and a low monthly fee.
Get a Quote
For Your Dentist Office
Interested in how our aquariums can improve your dentist office lobby?