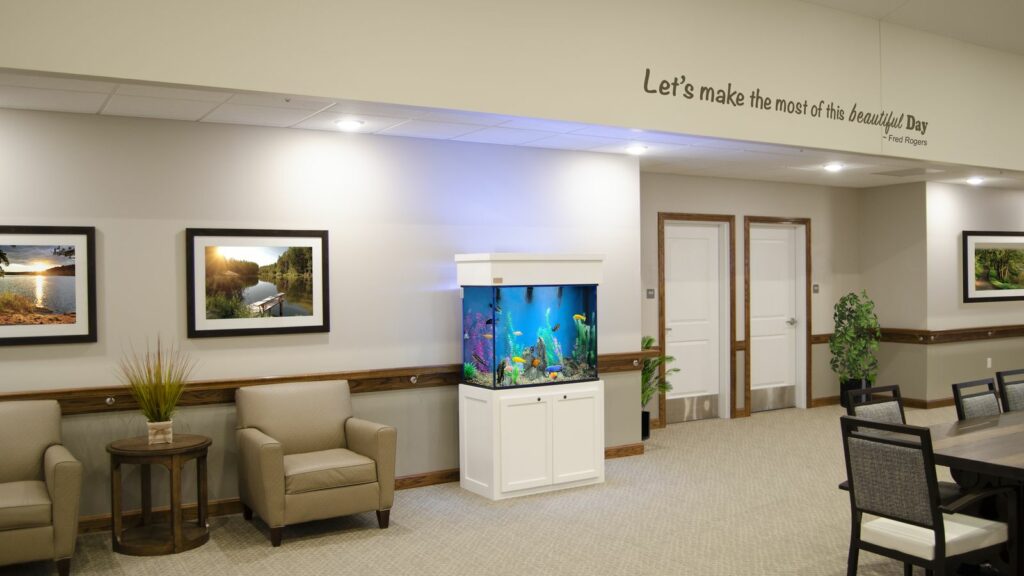 Do you know why so many assisted living communities invest in an aquarium?
There are many health benefits associated with aquariums. They offer unique stimuli for the residents in these communities. Studies have shown positive results from aquariums in long-term care units.
Read on to learn a few benefits of aquariums for assisted living homes, and how you can get a hassle-free fish tank for your community!
Benefits of Aquariums for Assisted Living Communities
Regardless of the residents you care for, an aquarium can benefit them and your staff.
In memory-care units, for example, residents experience fewer disruptive behaviors while gazing at a fish tank. Plus, an aquarium draws residents together and encourages conversation, which is sometimes lacking in assisted living communities. It was also found that residents improved their nutritional intake, along with their ability to fall asleep and stay asleep through the night.
Your staff can benefit from an aquarium as well. A study published by PubMed discovered a general uptick in job satisfaction after the inclusion of an aquarium.
Based on this information, do you think your assisted living community can benefit from an aquarium?
Create your Custom Aquarium for Assisted Living
Our elegant aquariums fit well in any space because they're fully customizable. As such, You can cater the size, dimensions, and colors to fit your specific community.
All our aquariums for assisted living are crafted by our sister company, Custom Aquariums. Our collection of proprietary products has helped us become industry leaders in build-to-order aquariums and aquarium services.
Reach out today so we can start configuring a custom aquarium for your assisted living community!
Minimal Aquarium Maintenance
Aside from the aquarium, we also provide routine cleaning and maintenance. We offer this service in 40 states across the US, as we have many service techs in each state.
So, while the staff at most assisted living communities need to deep clean the fish tank, maintain the equipment, and care for the fish, you won't have to worry.
We take care of all ongoing cleaning and maintenance so you and your staff can focus on more important matters, like caring for your residents.
What are the Costs of a Serenity Aquarium
Worried about spending thousands of dollars upfront for an aquarium with services? Through Serenity, you won't have to worry.
You'll get a spacious aquarium, all the equipment, underwater decor, fish, food replenishment, and routine cleaning services for no upfront cost and a low monthly fee. Prices will vary depending on your desired setup and service frequency, but be confident you won't have to break the bank.
Interested in a new fish tank? Reach out today for your free consultation! With your help, we'll configure the perfect aquarium for your retirement home.
Get a Quote
For Your Assisted Living Community
Interested in how our aquariums can improve your facility's ambiance?